Grad-student archaeologist returns to coal country to aid a vibrant movement

Brandon Nida wants to save a mountain. Coal-rich Blair Mountain. In Appalachia, where coal is king and traditional underground mining is giving way to a radical extractive technology known as "mountaintop removal."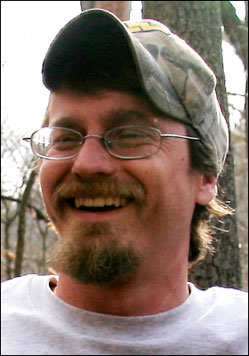 A Berkeley archaeology and anthropology student proud of his hillbilly roots, Nida is doing his doctoral research in his native West Virginia. There, he's a board member of Friends of Blair Mountain, a local grassroots organization, and an outspoken critic of mountaintop removal (MTR), which involves clearcutting mountain ridges, blasting away hundreds of vertical feet of soil and rock to expose underlying coal seams and depositing loose material in adjacent valleys.
"Absolutely devastating," Nida says of MTR's impact on the landscape, ecology, human health and traditional life ways in Appalachia. At the same time, he says, the new face of coal mining has galvanized a "really, really vibrant" movement — of which he counts himself a part.
Nida's own forms of political engagement — from shooting the breeze with locals to "straight organizing" of community meetings and rallies (including a major march at Blair Mountain this June ) — are not unfamiliar in a place with a long tradition of trade unionism and coalfield activism. More unusual is a native son, with roots in Lincoln County going back generations, weighing in with academic research: his archaeological and anthropological investigation of the 1921 Battle of Blair Mountain.
The Berkeley graduate student is attempting, with other scholars and activists, to get the Blair Mountain battleground onto the National Registry of Historic Places — a designation that would help protect the site from MTR mining. (The site was added to the registry in 2009 but almost immediately de-listed — an about-face he attributes to the political clout of the West Virginia coal industry.)
A key labor battle remembered
Archaeologists often excavate battlefield sites from antiquity, such as the plain at Marathon where the Greeks famously fought off Persian invaders. Although the Blair Mountain battlefield does not count as ancient, it's fertile ground, nonetheless, for a young scholar working to illuminate the social relations that shaped his grandparents' lives.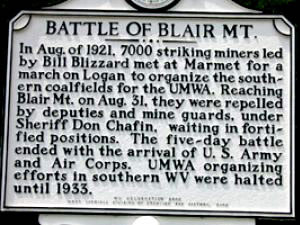 There, up to 10,000 coal miners faced (and were ultimately defeated by) sheriff's deputies, a private army and aerial bombardment in a five-day armed conflict. The Battle of Blair Mountain was the culmination of "the largest labor insurrection in U.S. history," Nida notes, and ended only when "three regiments of federal troops interceded on President Harding's authority."
The battlefield stretches for more than 10 miles and encompasses 15 archaeological sites. There, trained and amateur archaeologists have unearthed more than a thousand artifacts from the bloody face-off: rusted firearms, spent ammunition, carbide lamps, coins and buttons, even a luckless combatant's lost boot.
Although he does not consider himself a battlefield archaeologist, Nida says a careful study of artifacts from the Blair Mountain battle, and the terrain where they lay buried, speaks to the dynamics and ferocity of the confrontation, and can serve as a potent educational tool for members of the community.
Locals are keenly interested not only in archaeological finds, Nida notes, but in firearms, thanks to the region's tradition of subsistence hunting and its history of coalfield violence. A gun or an unusual shell casing "is an immediate ice-breaker," he says.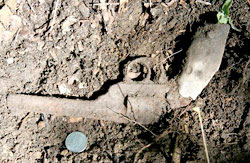 An Army veteran (he served three years in the airborne infantry after graduating from high school), Nida can hold his own on the subject of guns and bullets. "The actual assemblage is really, really interesting," he says of shell casings discovered at the battleground. "In that period of munitions manufacturing, there was lots of variety, interesting calibers." Poverty-stricken miners, he speculates, got their hands on some of these bullets and guns by stealing them from the company store.
Nida is helping to produce a community-written history of the West Virginia mine wars. And he is set to conduct, in April, an archaeological survey and dig at the Whipple Company Store, in Scarbro, W.Va., where miners' families purchased goods with company scrip from 1890 into the 1940s.
A team including Harvard Ayers, an emeritus professor at North Carolina's Appalachian State University, will investigate the eight-acre property, looking for bodies of miners who may have been buried there clandestinely by the company. The researchers will also be hunting for "mundane artifacts" that may shed light on the daily functioning of the company store.
"Uncovering the system of exploitation that's been in place here for 120 years is a very liberating thing," Nida says. "It's very potent and it resonates."
Tools for Appalachia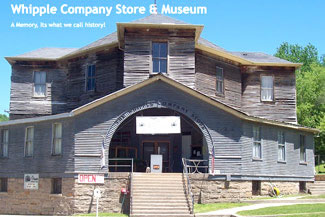 Appalachia, for Nida, is a complex and contradictory place — where many locals are intimately connected with the natural environment around them, but few would identity themselves as "environmentalists." While deeply proud of the place, its people and its riveting history, "I always had this feeling something was wrong here," he adds — referring to the economic domination of a single industry, coal, and the pervasiveness of poverty.
As a doctoral candidate at UC Berkeley, Nida is something of an anomaly in the rural West Virginia coalfields. His philosophy, he says, is "not to forget where I'm from and how I was raised."
"Appalachia is a knowledge-laden culture," he says. "There's so much knowledge among regular people." So his approach is not "I'm a Berkeley doctoral student and have all the answers," but that he now has skills — analytical tools, critical thinking and computer skills — of potential use in Appalachia as it struggles to turn the corner on the worst of its past and create a more diversified and sustainable economy.