Frog evolution tracks rise of Himalayas and rearrangement of Southeast Asia
The sequence of evolutionary changes, in turn, tells geologists the sequence in which mountain ranges and river systems arose and isolated frog populations as a result of the Indian tectonic plate pushing northward into Asia.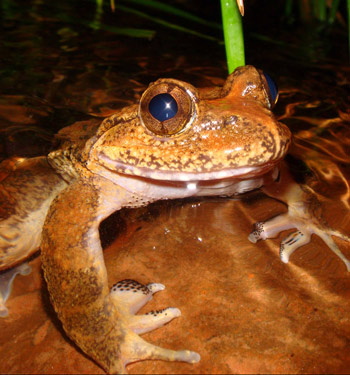 "Geologists know a lot about that area, but what they haven't been able to do is give a sequence to the timing of the rise of particular mountain masses and particular ridges and pieces," said co-author David Wake, a herpetologist and evolutionary biologist and professor of integrative biology at UC Berkeley. "We use these frogs as a surrogate for a time machine."
Spiny frogs from the tribe Paini are a curious group characterized by spines and powerful forelimbs in males.
"What we have here," he explained, "is a group of very old frogs that are so fixed to their habitats that they just stuck there, sitting on that mountain mass when it got raised up. They were separated by these uplifts and by the rivers between the mountains into different units, and these give us a fix on the timing of geological events.
Wake and his colleagues, including first author Jing Che of the Kunming Institute of Zoology, who performed some of the genetic analyses while a visiting scholar at UC Berkeley from 2008-2009, published their research in this week's print edition of the journal Proceedings of the National Academy of Sciences. A photo of the spiny frog Quasipaa boulengeri from the mountains of Sichuan, China, graces the issue's cover.
According to An Yin, a professor of geology at UCLA who was not part of the analysis team, the sequence of spiny frog evolution supports a minority view of how the India/Asia collision played out between about 55 million years ago and 15-20 million years ago. Rather than merely pushing the Himalayas upward, as some geologists believe, others have argued that the indenting Indian plate also pushed Southeast Asia and China aside towards the Pacific ocean, a process referred to as extrusion or escape tectonics.
"David and colleagues very cleverly used the frogs and their habitats … and came up with very interesting evolutionary stages that are correlated with what this model predicts," Yin said. "It really is proving important support for a model proposed and based on completely different principles and reasoning and different observations."
That theory, originally proposed by Paul Tapponnier of the University of Paris and Peter Molnar of the University of Colorado at Boulder, and subsequently championed by Tapponnier, says that the Indian plate's push into Asia was not continuous, but occurred in a series of northward jumps, first pushing land aside to form Southeast Asia, then pushing South China to the east, and then pushing Central China northeastward.
"If India keeps moving," Yin said, "then North China will move out of the way. So, you have stages that have very important implications for paleogeographic evolution in this area."
Spiny frogs of the tribe Paini (a grouping within the family Dicroglossidae) are often called stone frogs in China because they cling to moss-covered rocks near rapidly flowing streams. When male frogs mate with females, they typically grab the female from behind in a strong grip known as amplexus. Though not all Paini have muscular forearms combined with keratinous spines, like coarse sandpaper, on their chests and forearms, those who live in fast-flowing streams do, evidently to prevent the slimy female from being whisked away during the sometimes hours-long amplexus required for the female to ovulate.
Using frogs collected by Che and others, including frogs collected 20 years ago in Tibet and the Himalayas by Theodore Papenfuss, a herpetologist in UC Berkeley's Museum of Vertebrate Zoology, the researchers analyzed four genes from the nucleus in 29 individuals from 24 species of spiny frog. The analysis showed the Paini is composed of two major groups and five distinct lineages, which was a surprise, Wake said.
"The study has revealed at least five unnamed frogs in Indochina and adjacent Yunnan Province in China," Papenfuss said.
According to the researchers' genetic reconstruction, the tribe Paini arose in what is now Indochina and spread into Western China about 27 million years ago, diverging into two groups: Nanorana, now consisting primarily of high-elevation species up to 4,700 meters, in Western China; and Quasipaa, consisting of mostly low-elevation species in Indochina and South China.
As the Tibetan plateau was pushed higher, it became separated from the Himalayas, isolating populations in these regions some 19 million years ago. Those restricted to the Himalayas are now considered the Paa subgenus. The Nanorana subgenus isolated in Tibet began to diversify again about 9 million years ago, consistent with the period during which the Tibetan plateau rose above 3,000 meters. These new Nanorana species became well adapted to the cold, arid, low-oxygen conditions of Tibet, and as a result, some organs degenerated, Papenfuss said. For example, some frogs today have no or reduced structures in the ear, including the external tympanum, which transmits sound to the inner ear, and the columella in the middle ear.
The researchers found that in Indochina and South China, on the other hand, the Quasipaa frogs were split by the uplift of the Truong Son Mountain Range on the Laos-Vietnam border, along what is called the Ailao Shan-Red River shear zone. This uplift and the opening of the South China Sea probably occurred as the Indian landmass pushed Indochina southeastward, isolating the frogs of Indochina (now subgenus Eripaa) from those of South China (Quasipaa).
"Our study suggests that the geologically hypothesized uplift (thickening) and strike-slip extrusion must have occurred simultaneously to generate the observed biotic distribution pattern" some 23-24 million years ago, the authors wrote in their paper.
The movement of large land masses must also have been accompanied by climate change, the authors noted, which suggests that the forests of Central Vietnam may have served as a refuge for Paini frogs during climate oscillations. Today, Vietnam is a conservation hotspot.
"Basically, the frogs were rafting on top of the continents," Yin said "The tectonics control morphological evolution by transporting originally very closely related frogs so far apart they all diverge and develop very differently."
Wake, whose interest is homoplasy – the independent origin of similar shapes and structures – noted that the study shows "that spines and hypertrophied forelimbs have evolved independently four different times as they coped with the ever steeper rising mountains and adapted to these increasingly rapidly flowing streams."
Other authors of the PNAS paper are Ya-Ping Zhang, director of the State Key Laboratory of Genetic Resources and Evolution (SKLGRE) at the Kunming Institute of Zoology and of the Laboratory for Conservation and Utilization of Bioresources at Yunnan University in Kunming; and Wei-Wei Zhou, Jian-Sheng Hu and Fang Yan, also of SKLGRE.
The work was supported by the National Basic Research Program of China (973 Program) and the U.S. National Science Foundation AmphibiaTree of Life program.