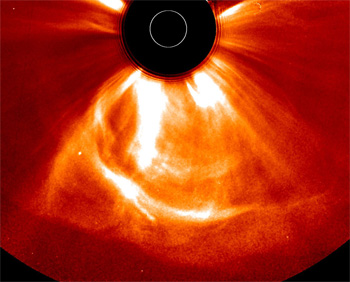 "These gnarly, twisty ropes of magnetic field from coronal mass ejections come blasting from the sun through the ambient solar system, piling up material in front of them, and when this double whammy hits Earth, it skews the Earth's magnetic field to odd directions, dumping energy all around the planet," she said.
Detecting solar blasts
"People keep saying that these are rare natural hazards, but they are happening in the solar system even though we don't always see them," she added. "It's like with earthquakes — it is hard to impress upon people the importance of preparing unless you suffer a magnitude 9 earthquake."
All this activity would have been missed if STEREO A — the STEREO spacecraft ahead of us in Earth's orbit and the twin to STEREO B, which trails in our orbit — had not been there to record the blast.
The goal of STEREO and other satellites probing the magnetic fields of the sun and Earth is to understand how and why the sun sends out these large solar storms and to be able to predict them during the sun's 11-year solar cycle. This event was particularly unusual because it happened during a very calm solar period.
"Observations of solar superstorms have been extremely lacking and limited, and our current understanding of solar superstorms is very poor," Liu said. "Questions fundamental to solar physics and space weather, such as how extreme events form and evolve and how severe it can be at the Earth, are not addressed because of the extreme lack of observations."
The work was supported by NASA. Other coauthors of the paper are Stuart D. Bale, director of UC Berkeley's Space Sciences Laboratory and professor of physics; Primož Kajdič and Benoit Lavraud of the Université de Toulouse; Emilia K. J. Kilpua of the University of Helsinki; Noé Lugaz, Charles J. Farrugia and Antoinette B. Galvin of the University of New Hampshire; Nariaki V. Nitta of Lockheed-Martin Solar and Astrophysics Laboratory; Christian Möstl of the University of Graz and the Austria Space Research Institute of the Austrian Academy of Sciences.

RELATED INFORMATION