Fernando Botero Exhibit Exploring Abu Ghraib Abuses Opens at Berkeley Art Museum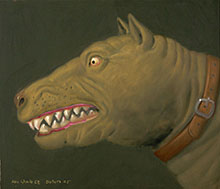 BERKELEY — An exhibition of 56 powerful paintings and drawings by Colombian artist Fernando Botero about abuses at the Abu Ghraib prison in Iraq opens Wednesday, Sept. 23, at the University of California, Berkeley's Berkeley Art Museum and Pacific Film Archive (BAM/PFA).
The exhibition will run through Feb. 7, 2010, and marks the campus's first showing of Botero's Abu Ghraib works since he donated them to the UC Berkeley museum.
Some 15,000 visitors flocked to campus when some of the works were displayed for seven weeks in early 2007 in an exhibition organized by UC Berkeley's Center for Latin American Studies at a Doe Library gallery. The exhibit followed media reports and published photos of horrendous abuses by U.S. soldiers of Iraqi men held at Abu Ghraib.
"Fernando Botero's artful commentary has resonated with people around the world," said UC Berkeley Chancellor Robert Birgeneau. "UC Berkeley - with its excellent and innovative art museum, leading centers for Latin American studies and human rights, top-ranked departments of art practice and history, and as birthplace of the Free Speech Movement - is the perfect home for Botero's Abu Ghraib collection."
Botero is internationally renowned for colorful paintings, drawings and sculpture that often feature his famously exaggerated figures. He studied art in Madrid, Florence and Mexico City and has cited day-to-day life in small Latin American villages as a source of his artistic inspiration. His paintings and sculptures are housed in 46 museums around the world, including the Metropolitan Museum of Art in New York.
Responses to the Iraq war have been scarce in the American art world, and Botero's unflinching images portray Abu Ghraib prisoners bound, bleeding, humiliated and sometimes set upon by dogs. He has said that the Abu Ghraib art represents "a broad statement about cruelty and at the same time an accusation of U.S. policies."
Botero and BAM/PFA Director Lawrence Rinder will discuss the exhibition during a Wednesday, Sept. 23, evening program at the museum. The event is sold out, but it will be Webcast online beginning Friday, Sept. 25.
In addition, the museum's "Material Witness" exhibition runs through Dec. 20, displaying works from its own collection that bear witness to social issues. It includes Francisco Goya's series "The Disasters of War," about the Spanish Inquisition and Napoleonic invasions in the early 19th century.
More information about the exhibitions and about the art museum is online at: www.bampfa.berkeley.edu.
Source: http://www.berkeley.edu/news/media/releases/2009/09/17_botero2009.shtml