Faces of Immigration Studies at Cal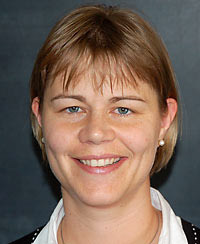 Sociologist Irene Bloemraad's research on the contemporary immigrant experience has deeply personal roots. Born in Spain to Dutch parents, Bloemraad moved to Canada with her family as a young girl. She studied political science and sociology at McGill University in Montreal before earning her doctorate in sociology at Harvard.
But as a social scientist, her research on citizenship and national identity is a direct response to her daily work environment.
Some 60 percent of Berkeley undergraduates have at least one immigrant parent, according to a 2006 survey. These Cal students offer remarkable evidence that education is one of the primary tools for socioeconomic mobility among recent immigrant generations, and a glimpse at the rich diversity of California's future leaders.
Immigration studies at Berkeley is growing rapidly. Courses examining the intersections of migration, race, citizenship, and politics have grown in recent years along with the changing demographics of the student population.
A visit to one of the courses Bloemraad taught this fall adds faces and names to this evolution. Her sociology course "Contemporary Immigration in Global Perspective" leads students to examine why people migrate, how immigrants incorporate into their new homes, and debate future forms of membership and citizenship in a globalizing world. 
"This is the class that I have been preparing for over the last eight years, the class I'm most passionate about teaching," Bloemraad says. "Most of the students who took this course are exactly the immigrants and second generation I am interested in."
During class, the group of 40 discusses how immigrants fare under different political systems and it breaks down which specific elements of a society seem to offer immigrants the best chance of success. One important factor is school. Educational institutions help children acquire language and academic skills. But they can build civic skills, too, for both children and parents, helping them to come out of the isolation of immigrant life.
When this does not happen, and immigrants remain cut off from one another, there is a lost opportunity to develop meaningful civic engagement. Political economy major JungHee Jadon Won can attest to this. Won is the son of Korean immigrants. A self-described "1.5" immigrant — born outside of the U.S. but having largely grown up in this country — Won says he was struck as a youth by how little different ethnic groups mingled.
"I have considered the U.S. a country of immigrants, but I did not see any attempt of assimilation, especially in La Crescenta, where I went to high school," he says. "Korean students stayed within their circle, and Armenians only bonded together, and so forth. Even though they were living in next door, they failed to acknowledge the existence of their fellow citizens of other races. I wanted to learn why this might occur, and if I can do something about it."
Bloemraad's research found that immigrant students with access to clubs at school — an anti-discrimination club, La Raza club or even a French club —find support and resources.
"It can be the seeds of activism," she says. In 2006, she notes, a group of students at Richmond High School, including immigrant students, organized and sought support to file a lawsuit claiming that California's high school exit exam discriminates against poor and minority students.
"A lot of organizing was going on in the student clubs," she says. "With the mentorship of an interested teacher, school clubs are often the first time students realize that if they get together, there are things they can do to address the issues they all face."
Bloemraad recently completed a study involving interviews with some 200 immigrant parents and their 14-18 year old children throughout the Bay Area. She and colleague Christine Trost, with UC Berkeley's Institute for the Study of Societal Issues, were looking for answers to several questions, including whether the children of immigrants teach their parents about the American political system and whether immigrant youth withdraw from or compensate for their parents' exclusion from the civic and political mainstream.
In conducting the research, Bloemraad and Trost met with sixteen graduate and undergraduate student interviewers every two or three weeks to discuss emerging themes.  The project became a training and teaching opportunity, beyond collecting new research data.
With a working title of Learning to Participate: Political Socialization in Mixed Status Immigrant Families, findings from the study are still being analyzed. It appears, however, based on interviews with Mexican, Vietnamese and Chinese high school students, that having immigrant parents does not mean that a young person will be end up disconnected from civic life.
"Everything is stacked against these kids," Bloemraad says, "yet even the children of undocumented immigrants become active in their schools and communities.  In some cases, they are even more involved."
At its core, this collaborative, student-assisted research poses questions about what it means to be a full member of the United States.  Both parents and the youth interviewed expressed a sense that being "American" meant being white, affluent, living in safe neighborhoods and having rights. This, they felt, excluded them, but many felt that they could be, and were, good U.S. citizens.  Importantly, the guarantee of birthright citizenship — which all the youth benefited from — blurred the boundaries between being American and being a citizen.
"There is a sense of marginalization, but especially for the kids born here, the 14th Amendment gives them a sense that they are a part of these debates."