Energy-efficiency expert Karl Brown named 2010 UC Sustainability Champion
To get that recognition from that group at that event was very meaningful to me," Brown says of the honor. The annual conference brings together students, faculty, and staff from California's three higher-ed systems (UC, CSU, and CCC), to share best practices for reducing their campuses' impact on the environment. "It's a very motivational event — perhaps the most inspiring gathering I go to each year," Brown says of the yearly summit.
A Berkeley grad, Brown earned his B.S. in mechanical engineering, with honors, in 1980 and his M.S. in the same field, specializing in energy conversion, two years later. With more than 25 years in the energy field, 19 of them at CIEE, Brown has "pushed the envelope" at UC "for some time" and in the process has created "quite a legacy," says UC sustainability specialist Andrew Coghlan.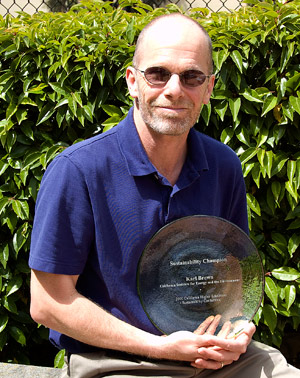 Brown was honored for wide-ranging, long-term contributions to the burgeoning sustainability movement — one being his role in nurturing the higher-ed sustainability summit itself. The citation lauded Brown's "quiet, steady, and wise behind-the-scenes leadership, [without which] this annual conference might not have made it to its second year," let alone its ninth.
He was also honored for helping to craft UC's ambitious Policy on Sustainable Practices, and for his role in the conception and creation of UC Merced as a sustainable campus, on which each and every building is LEED certified. The Merced campus has also met deep efficiency goals, and is now aiming to reach an even-more ambitious zero-net energy target by 2020. Brown was involved over 10 years with the launch of the UC Merced campus, beginning with initial planning discussions in the late 1990s.
An energy-efficiency expert, Brown is perhaps best known for his role in promoting Monitoring-Based Commissioning (MBCx), a term that harkens back to the process of taking a ship on a test run before putting it into service. In the case of a new building, "you run it through a series of tests" before it's occupied, to make sure the heating, air-conditioning, and other systems are working efficiently," Brown says. For existing buildings, he adds, "we're trying to shift the paradigm to bring more measurement into the process — for savings accounting, diagnosing problems, and ensuring performance over time." Brown has been instrumental in implementing MBCx in buildings on a number of UC campuses. Such projects have, in turn, become models for national efforts.
"UC is able to demonstrate, on our campuses, new technologies coming out of the California Energy Commission," Brown says. "Once demonstrated, others are willing to adopt them."
LeConte Hall on the Berkeley campus is one building that has had an energy-efficiency makeover. Brown helped secure funding for the systemwide program that financed new monitors, and training for building operators, in LeConte. As a result, LeConte has realized "a particularly large amount of savings" — a 21 percent reduction in electricity and steam use combined, and accompanying savings in greenhouses-gas emissions and money.
At this year's sustainability conference, LeConte won a UC best-practice award for MBCx. Last year the campus's Tang Center took top honor in the same category.