Earthquake early warning milestone: ShakeAlert rolled out to entire Bay Area
At 11:15 a.m. this morning, BART trains throughout the system slowed to 27 miles per hour and announced to passengers, "This is a test of the ShakeAlert system. ShakeAlert is the United States Geological Survey Earthquake Early Warning System, which has been provided to BART in partnership with UC Berkeley."
The test was conducted to highlight a milestone for ShakeAlert. Now, all Bay Area organizations, including schools, businesses, utilities and government agencies, can sign up to get early warning alerts and integrate them into their operations.
The early warning system was developed over the past five years by the U.S. Geological Survey, UC Berkeley, California Institute of Technology, University of Washington and University of Oregon in partnership with the California Governor's Office of Emergency Services to provide up to tens of seconds of advance warning that the ground will begin shaking: enough time for people to drop, cover and hold on, or take other protective action.
BART has been testing ShakeAlert for the past few years, slowing and sometimes stopping trains based on warnings of impending ground shaking. So have other critical organizations: PG&E, Chevron in Richmond and the City of Albany, to name a few.
These alerts allow organizations to establish automatic systems that will initiate actions to protect employees, equipment and delicate operations from injury and damage during shaking. This includes not only stopping trains, but opening firehouse doors so that engines don't become trapped, shutting off valves to conserve water for firefighting and shutting down gas or chemical lines at industrial sites to prevent fires or leakage.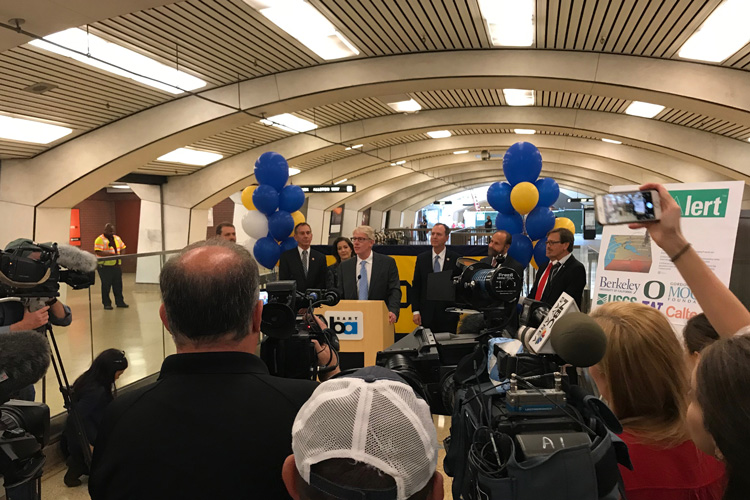 The latest version, "ShakeAlert 2.0," has an updated algorithm that collates data from the statewide seismic network and pushes out alerts to those signed up with the USGS. Among other things, the updated algorithm reduces false alarms and includes greater cybersecurity.
"I actually think that we can say today that ShakeAlert is the most sophisticated earthquake early warning system in the world," said Richard Allen, director of UC Berkeley's Seismological Laboratory and one of the authors of the ShakeAlert system, at a media event at the Downtown Berkeley BART station that followed BART's systemwide drill.
"The challenge," he acknowledged, "is getting that alert out to every single individual across the state of California or across the Pacific Northwest. The reason is that the technology for delivering alerts to all 8 million residents of the Bay Area within a second does not exist today. It does exist in Mexico and Japan."
To address that challenge, the USGS is inviting software developers and other partners to create pilot projects that demonstrate the use of ShakeAlert notifications for the broader public and deliver messages in seconds, rather than the minutes it takes other local and national alert systems. Some projects, for example, may alert individuals via cellphone, bringing real-time earthquake warnings to the general public. Such public apps are widely used in Japan and Mexico, tied to those countries' early warning systems.
"We have work to do. Although it (ShakeAlert) is a proven technology, other tech advances need to be made so that we can get this information out to every citizen on their smartphone or not-so-smartphone in time," said Congressman Adam Schiff (D-Burbank), a longtime supporter of EEW who was on hand to thank those who are making it happen and encourage continued funding to implement the system throughout the West Coast. "Not that long from now, you will get an alert on your phone that will tell you that an earthquake is coming in 30 seconds or 20 seconds or 10 seconds and allow you to get to a safe place.
"It will, in short, save lives and save hundreds of millions if not billions of dollars in avoidable damage."
Allen and Schiff were joined at the media briefing by State Senator Jerry Hill (D-San Mateo), State Senator Bob Wieckowski (D-Fremont), Oakland Mayor Libby Schaaf and BART board member John McPartland as well as representatives of the ShakeAlert consortium.
Legislators in Washington, D.C., and Sacramento have been very supportive of ShakeAlert, Allen noted. The state has provided $25 million over the past two years and the federal government to date has provided $46.3 million to implement it.
But, Hill said, continued funding is needed to allow the partners to build out their earthquake-monitoring networks to cover the entire state, as well as Washington and Oregon, and to keep ShakeAlert operating effectively.
"This is not just a game changer, it's a life saver," Hill said. "This reminds me of the old adage, 'By failing to prepare, you are preparing to fail.'"