Doudna joins Biden in Davos rollout of 'cancer moonshot'
 Berkeley biochemist Jennifer Doudna joined Joseph Biden this morning at the World Economic Forum in Davos, Switzerland, as the vice president promoted a major new U.S. initiative to speed the discovery of cures for cancer, what President Obama has dubbed a "cancer moonshot."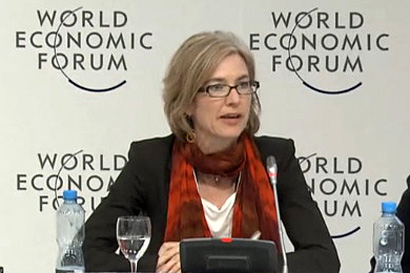 Announced last week in Obama's State of the Union address, the initiative will be the focus of Biden's final year in office as he attempts to double the rate of progress against cancer. His discussion in Davos with cancer experts such as NIH director Francis Collins and former UC Berkeley biologist and Nobel laureate Elizabeth Blackburn, now president of the Salk Institute for Biological Studies in La Jolla, touched on many issues, including the promise of CRISPR/Cas9 gene editing to help find new ways to tackle cancer.
One tweet from the meeting quoted Doudna as saying, "We can harness the power of the human genome to understand disease."
More information and video of the discussion, "Cancer Moonshot: A Call to Action," are available online at the World Economic Forum's website.
Over the next year, according to a blog post by Biden, "The Federal government will do everything it possibly can — through funding, targeted incentives and increased private-sector coordination — to support research and enable progress. We'll encourage leading cancer centers to reach unprecedented levels of cooperation, so we can learn more about this terrible disease and how to stop it in its tracks."
Doudna was invited to talk about one of the most promising new tools in biomedical research, CRISPR/Cas9 gene editing, which she invented several years ago with colleague Emmanuelle Charpentier.
Doudna will participate in two other Davos forums this week, all of which will be streamed live:
The theme of this year's meeting, the Fourth Industrial Revolution, reflects how new technologies and approaches like CRISPR/Cas9 are merging the physical, digital and biological worlds in ways that will fundamentally transform humankind.