Doudna awarded Japan Prize for invention of CRISPR gene editing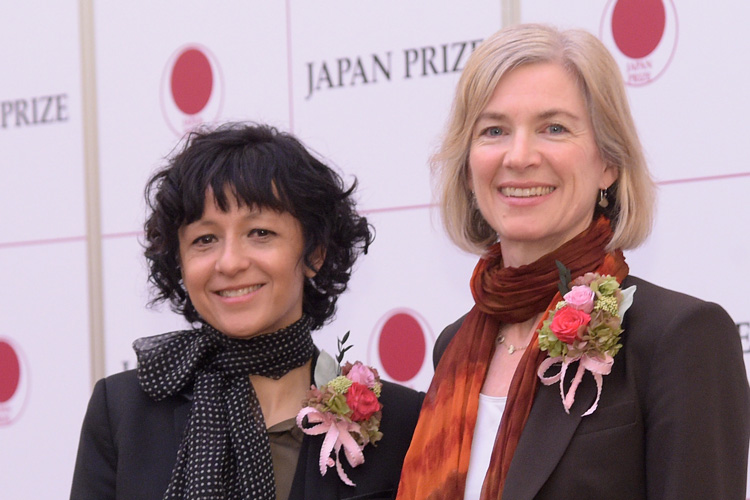 Jennifer Doudna and Emmanuelle Charpentier were awarded the Japan Prize today for their invention of the revolutionary gene-editing technology known as CRISPR-Cas9, which has swept into research labs around the world and is already yielding new therapies for cancer and hereditary diseases.
Doudna and Charpentier each will receive a certificate of recognition, a commemorative gold medal and 50 million Japanese yen (approximately $420,000 U.S.). The honors will be presented at an award ceremony on April 19 in Tokyo.
Doudna, a UC Berkeley professor of molecular and cell biology and of chemistry and a Howard Hughes Medical Institute investigator, combines biochemistry and structural biology to understand the function of catalytic and other non-protein-coding RNAs, or ribonucleic acids. She has shown how these molecules carry out complex activities in cells and are uniquely capable of encoding and controlling the expression of genetic information.
Her work with Charpentier, which culminated in a seminal publication in 2012, established CRISPR-Cas9 as a transformative technology for gene editing in all types of cells and organisms. The tool is already being used to edit the genomes of animals to study diseases that affect humans, insects to fight disease and crops to improve disease resistance.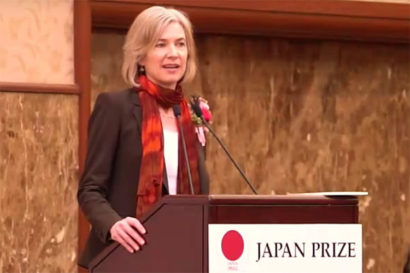 As a testament to the scientific significance of the CRISPR-Cas9 technology, Doudna and Charpentier have shared the 2015 Breakthrough Prize in Life Sciences, the 2015 Gruber Foundation International Prize in Genetics, the 2015 Princess of Asturias Award for Technical and Scientific Research and the 2016 L'Oreal Unesco for Women in Science Award. Charpentier is the director of the Max Planck Institute for Infection Biology in Berlin and a visiting professor at Umeå University in Sweden.
Doudna has received 20 other major awards as well, including the Lurie Prize in Biomedical Research, the Paul Janssen Prize and the Heineken Prize. She is a member of the National Academy of Sciences, the American Academy of Arts and Sciences, the Institute of Medicine and the National Academy of Inventors, and a foreign member of the Royal Society. In 2015 she was named one of the 100 leading global thinkers by Foreign Policy.
The Japan Prize Foundation also gave its 2017 award to Adi Shamir of the Weizmann Institute of Science in Israel for his "contribution to information security through pioneering research on cryptography."