DOE awards $25 million to UC Berkeley, Stanford to lower cost of solar power
The effort to make sun power more affordable has gotten a big boost with a $25 million, five-year Department of Energy grant, announced this week by Secretary Steven Chu, to launch the Bay Area Photovoltaics Consortium (BAPVC).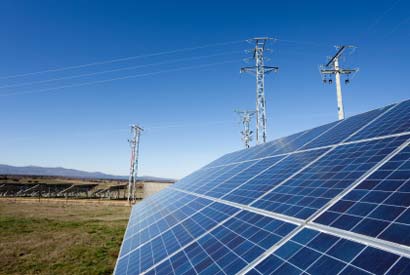 The consortium, jointly led by the University of California, Berkeley, and Stanford University, seeks to spur research and development of new materials and manufacturing processes that will cut the cost, significantly increase production volume and improve the performance of solar cells and devices. The award is part of the DOE's SunShot Initiative, which seeks to expand the U.S. solar energy industry by making it more cost-competitive with other forms of power.
In addition to the DOE award, matching funds from industry will provide an additional $1 million per year to support BAPVC.
Ali Javey, UC Berkeley associate professor of electrical engineering and computer sciences, and Yi Cui, Stanford University's associate professor of materials science and engineering, will lead the new consortium as co-directors.
"The cost of solar energy in 2010 was about $3.40 per watt of power installed," said Javey. "Our end goal – an aggressive one – is to decrease that cost to $1 per watt installed. Our collaboration with industry will be critical in achieving this goal. We are fortunate that the Bay Area is home to such a high density of PV-related companies."
Sixteen companies have signed on to the consortium, and more have already expressed interest. Javey and Cui will work closely with an industry board of representatives from the photovoltaics field to shape the research goals for the consortium. BAPVC will fund competitive grants through a process open to all universities, national laboratories and research institutions.
"We are looking for anyone with a great idea," said Javey.
The consortium is expected to be up and running by June, with calls for research proposals to follow closely.
Related links:
Read DOE Secretary Steven Chu's SunShot Projects announcement.
Read U.S. Sen. Dianne Feinstein's press release about the California DOE grant recipients.