From cracks in the campus budget, a new research community blooms
In a creaky old UC Berkeley building, once home to the Anna Head School for Girls, is what appears to be a plain wooden door.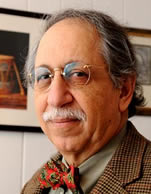 Behind it, though, lies a sliver of campus history. And to those who view it in the light of history, this seemingly ordinary door, tucked away on the second floor of a ramshackle structure near People's Park, looks like a portal to the future of social-science research at Berkeley.
The door was locked for most of a quarter-century. On one side, researchers with Berkeley's policy-oriented Institute for the Study of Social Change explored a range of social phenomena — immigration, economic restructuring, technology and more — and their impacts on people around the globe. Up the stairs and a world away, the pioneering, methods-based Survey Research Center mapped the crosscurrents of American life via survey, administrative and ethnographic data.
Separate units, with separate identities and separate cultures. And, since the days of the Reagan White House, emphatically separate spaces.
"I didn't know what was on the other side of the door," laughs Christine Trost, who spent time in the brown-shingle, 19th-century complex as a doctoral student in the 1990s and then, Ph.D. in hand, as the ISSC's assistant director.
Recalls Eva Seto, who similarly started at the SRC in 1993 as a grad student and stayed on there as assistant director: "They had a staircase that went to a locked door, whereas we just had a hallway with a door to a staircase you couldn't get down."
The door swung open, finally, in 2009, when the two units merged to form the Institute for the Study of Societal Issues. Something of a shotgun marriage, the merger was prompted mainly by budget considerations — while state funding cuts were forcing the whole campus to retrench, the SRC, whose operations included a money-losing fee-for-services facility, was actually piling up debt. Yet Trost, Seto and ISSI director Martí­n Sánchez-Jankowski say the move has been an unalloyed boon to research, leading to the emergence of new centers, better training for tomorrow's scholars and a more interdisciplinary approach to making sense of social dynamics.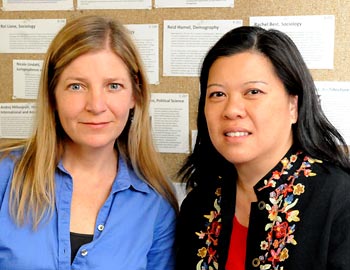 The changes, they add, are more than academic. As they see it, consolidation opened the doors to a vital new sense of community.
"The big thing for me is to create community, and to train graduate students and to give them a home," says Sánchez-Jankowski, a sociology professor and ethnographer whose research subjects have ranged from street gangs to indigenous populations in Fiji and South Dakota. (Cracks in the Pavement, his penetrating 2008 book on how city dwellers adapt to economic hardship, bears the faintly prophetic subtitle Social Change and Resilience in Poor Neighborhoods.) "I'd say my main challenge is to let people know that you want to be here because there's a community here, to share ideas, to stimulate your own and others' research and to disseminate all kinds of policy-oriented information."
A secondary challenge was building a bridge between the SRC — one of the nation's leading innovators in survey-research methods, decades before the Internet changed the rules of the game — and the policy-focused ISSC. It's not surprising that Sánchez-Jankowski, with a foot in each world, got the call.
Already leading the SRC's Center for Urban Ethnography, Sánchez-Jankowski had just been appointed ISSC director when he was tapped as an interim replacement for SRC director Henry Brady, who was leaving to become dean of the Goldman School of Public Policy. "I was a caretaker," he says. "The books didn't look good, and I wasn't sure if the organization was going to survive."
Ultimately, the decision was made to shutter the fee-for-services unit, and to create a unified framework in which researchers from both sides of the complex could collaborate more effectively — from project design to data collection to analysis — on what Sánchez-Jankowski calls "the substantive questions." Seto and Trost are assistant directors of the new institute.
"It was a natural fit," says Seto, especially since Sánchez-Jankowski was directing both units. "So why not try to put these groups together and see what we could make of it?"
"It just kind of made sense that the door would be opened," adds Trost, "and the units combined under a single leader."
Ahead of the curve
In late 2009, Berkeley Chancellor Robert Birgeneau launched Operational Excellence, a three-year initiative meant to reduce the campus's reliance on state funding through administrative restructuring and other cost-saving efforts. Results of the first phase of that campuswide restructuring were announced in January 2011.
The ISSI was way ahead of the curve.
"We were early adopters" of the move to consolidate operations, says Seto, whose familiarity with the campus's financial systems, at a time when research units' administrative services were already being centralized at off-site locations, provided crucial in-house expertise. 
Change has not been painless: More than a dozen employees found themselves without jobs at the new institute. But Seto emphasizes the cuts were not caused by the merger, resulting instead from the earlier outsourcing of administrative services and the elimination of the fee-for-services unit.
"The closing of the survey facility was a loss in services to this campus," she says. "But that was a business decision, and not about this merger. The rest of what was the Survey Research Center is still going strong — struggling like everything else at this university, but still going strong. Now we have the ability to be part of a larger institute with me and Christine backing each other up, which is a great way to really push things forward.
"This was definitely not a merger where we lost anything," she adds. "It's actually the opposite of that. We are growing. And part of why we can grow is that I'm not doing it alone, Christine's not doing it alone. We've formed a partnership that I think will make this place bettter."
Fostering interdisciplinary research by bringing scholars together under the same roof, Trost believes, is "the wave of the future." Once again, the ISSI was out in front of the trend.
In 2009, as Operational Excellence was getting off the ground, Vice Chancellor for Research Graham Fleming charged a high-level, nine-member committee with the task of finding new, more cost-effective ways of maintaining the world-class caliber of social-science research at Berkeley.
Last November, the committee issued an 18-page report. Among its recommendations: The campus should transition to "robust, yet lighter and more flexible infrastructure," with an eye to "collaborative projects rather than fixed instruments, methods or content areas." Calling for a "lab-based model" for social-science research units, the panel suggested they emulate successful UC-based scientific consortiums like the Center for Information Technology Research in the Interest of Society (CITRIS) and the California Institute for Quantitative Biosciences, better known as QB3.
"We've tried to establish a lab kind of situation here," echoes Sánchez-Jankowski, noting how physical-science units are able to combine teaching and research functions in the laboratory. The ISSI's 40-plus graduate students, he says, "have access to faculty doing their research here that they wouldn't necessarily have if they were just in their department. That's terribly important."
To encourage mixing, the three have moved former ISSC students closer to erstwhile SRC students, reshuffled faculty offices and created a communal area where, Seto says, researchers of every stripe "can run into each other, talk to each other, share ideas."
For cultural anthropologist Deborah Lustig, that kind of cross-border cooperation could prove a key to her next project. Earlier this year Lustig, a research associate with the Center on Culture, Immigration and Youth Violence Prevention — formerly part of the ISSC — was working on a federal-grant proposal for an innovative research project on gang violence in Richmond. Whereas previous research has focused on the importance of cutting ties with "deviant" friends and associates for those hoping to "go straight," Lustig hopes to investigate whether individuals could actually be helped in leaving violence behind if others in their social networks — in this case, their gangs — are trying to do the same.
Lustig didn't know any experts in network analysis. But Trost knew ISSI grad student Andrei Boutyline, a scholar who once worked on the SRC side of the door. On his recommendation, Lustig met with Claude Fischer, a long-time Berkeley professor and authority in network analysis, who not only advised her but agreed to be a co-principal investigator on the project. She expects a response to the grant request in mid-September.
While she might well have found Fischer anyway, Lustig says, the merger definitely helped her make the connection. And she credits the "sense of shared commitment to collaborating and supporting each other's research" fostered by the ISSI for his willingness to lend his expertise, his name and his prestige to the effort.
"I think that's what [organized research units] were designed to do," Sánchez-Jankowski says, "and it's that kind of spirit that we've tried to build here."
"We're just getting started," adds Seto. "But I feel like we've made pretty great strides toward fostering community."
A growing community
Sánchez-Jankowski views the ISSI as "an umbrella," beneath which individual centers are able to home in on more targeted policy areas. And he's keen to extend the institute's reach, both by creating new centers and by facilitating interaction among existing ones.
Recent additions to the ISSI fold — currently 10 centers strong, with at least two more on the way — include the Center for the Comparative Study of Right-Wing Movements and the Joseph A. Myers Center for Research on Native American Issues. To help stimulate interdisciplinary discussion, Sánchez-Jankowski oversees workshops every other month on everything from youth violence and alcohol-abuse issues to direct-observation research. Except for a pair of technically oriented, revenue-generating programs, all workshops are free and open to students and faculty from across the campus.
The ISSI also holds five to six colloquia per semester, on top of those sponsored by individual centers themselves. There are internship programs for undergrads and minority students, and opportunities for undergrads to do hands-on research with grad-student mentors.
"We're a good case study of how even institutes with very limited resources can come together and take advantage of the different strengths that they bring to the table, and leverage their intellectual capital, their programmatic capital, to do great things," says Trost. "I definitely feel like that's a lesson of this merger.
"We still have a lot more work to do. We don't want to be an insular community of only particular disciplines. We want to do more outreach, so that other faculty know about us, and may want to come and take up an office here or be part of one of our working groups or research projects," she says. "This new institute is open to everybody. It's not just for sociologists or political scientists, it's for everybody."
Seto sums it up this way: "We're hoping that by knowing that we exist, and with a very broad name like Societal Issues, people will see how interacting with faculty or students from a different discipline might add to their work, and then they'll want to be part of our community.
"You know, we add to their research, and they add to our community," she says. "That's what we're hoping for."
For more on the institute or particular research centers, including contact information for interested faculty and students, visit the ISSI website.