Considering the Intersection of AI and Gender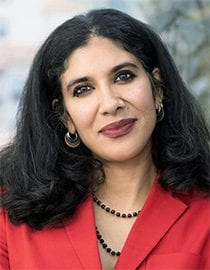 Professor Sonia Katyal won a Dukeminier Award for her article "The Gender Panopticon: AI, Gender, and Design Justice," published last year in the UCLA Law Review. She's the first scholar to land one of the annual honors — recognizing the best papers on sexual orientation and gender identity law — three times.  A special issue collecting this year's honored papers has just been published. 
Written with Jessica Y. Jung, then a UC Berkeley undergraduate, the article argues that society needs to grapple with reality that the dynamic between artificial intelligence and gender is far more complicated than current laws suggest, and has a particular impact on lesbian, gay, bisexual, transgender, and queer (LGBTQ+) communities. While the law is increasingly embracing more visibility around gender identities and fluidity, they say, there's a parallel increase in surveillance technologies that aren't capable of working beyond strict male and female classifications. 
The article draws on philosopher Jeremy Bentham's concept of the panopticon — a prison design with a central guard tower, to create an illusion of being alone in each cell but ensuring a feeling of being constantly watched. That sensation prompts prisoners to change their behavior. 
As the development of AI applications continues, it's possible to take steps toward entitling, embedding, and encoding gender self-determination, both on social media and in real space, Katyal and Jung conclude. 
"When a binary system of gender merges with the binary nature of code, the result fails to integrate LGBTQ+ communities, particularly nonbinary and transgender populations, erasing them from view," they write. " The question for legal scholars and legislatures is how technology can and should respond to this complexity."