Clintons, Conan at Berkeley, but student commitment's the star
 A parade of luminaries took part in Clinton Global Initiative University this weekend — from Bill and Chelsea Clinton and U.S. Rep. John Lewis to Conan O'Brien and Cal football legend Marshawn Lynch. But the event was all about the students, more than 1,200 of whom assembled at UC Berkeley for three days of inspiration, cooperation and "commitment to action."
"Change begins one person, one place, one community at a time," the former president told students on Sunday, a "day of action" in which they fanned out from Oakland to work alongside local community groups to help plant trees, organize libraries and paint murals. "You are demonstrating to the schoolchildren who will see your work that they matter."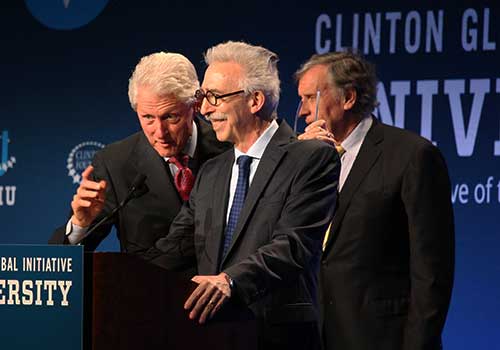 If the Clintons were the star attractions, though, the spirit of the weekend may have been best embodied by Lewis, a longtime hero of the civil rights movement who emerged as an inspirational leader while still a student at Fisk University. "If you see something that is not right, not fair, not just," said the Georgia congressman, "you have a moral obligation — you have a mission — to do something."
That was a mission embraced wholeheartedly not just by the students, but by many in the audience of 6,500 that packed Haas Pavilion for the Friday night kickoff. That crowd, declared UC regent Richard Blum — the namesake of Berkeley's Blum Center for Developing Economies and the husband of U.S. Sen. Dianne Feinstein — was "a first in history," coming from more than 100 different countries, roughly double the number represented at the United Nations charter signing in 1945.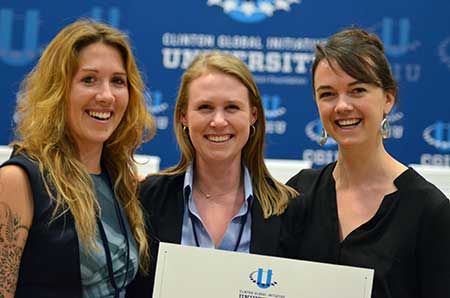 The opening-night crowd heard from the former president and his daughter, Chelsea, as well as Berkeley Chancellor Nicholas Dirks, who cited the critical importance of public universities in an era of diminishing public support. He endorsed the view of novelist Marilynne Robinson, who recently called universities "a tribute and an invitation to the young, who can and should make the world new, out of the unmapped and unbounded resource of their minds."
"As President Clinton recognized when he extended the work of CGI to universities, even the greatest ideas of our elders cannot last unless they are received and advanced by society's youth," Dirks said. "This is the mission of universities."
That very idea, in fact, was advanced by a young member of the panel discussion that followed, a panel moderated by Clinton himself. "If you want to create change, disrupt society, do something to change the world, you are at the best time in your life," said Amani Al-Khatahtbeh, who started the MuslimGirl.net website seven years ago at age 17 as a way, she has said, "of asserting my narrative as an American Muslim to the public and reclaiming my identity."
That panel, titled "The Courage to Create," also included Salman Khan, who described how he came to launch, somewhat by accident, the online Khan Academy, and Cady Coleman, a NASA astronaut who flew two Space Shuttle missions and spent 159 days in space as a crew member on 2011's Expedition 27 to the International Space Station.
And that was just the beginning.
Stressing the positive
In between the high-powered speakers and panel discussions — Saturday's plenary sessions featured Lewis, late-night host O'Brien and Laura Tyson, a Haas School of Business professor who chaired Clinton's Council of Economic Advisers from 1993 to 1995 — were the working sessions. Covering topics from "educating refugees and children in crisis" to improving mental-health care to making safe, low-cost drones available to those in remote parts of the world, the sessions were an opportunity for the 1,200-plus participating students to engage with one another and hone the project proposals that won them admission to this year's event. Proposals were judged on their potential to have "a concrete, lasting impact on a local or global level."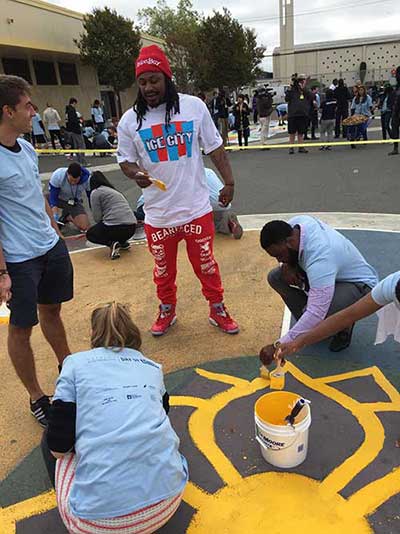 Michelle Nie, a junior majoring in business administration, was one of 150 Berkeley "commitment-makers" selected to be a part of the event. She and her team — Ankita Joshi, a mechanical engineering major, and Aubrey Larson, a public health major — hope to launch a social enterprise called Māk, a company devoted to empowering urban youth to become designers for 3D-printed products.
Other Berkeley students at CGI U included Thato Keineetse, a master's student in business, whose project is dedicated to alleviating energy poverty and water scarcity in sub-Saharan Africa; bioengineering major Anh-Thu Ho, who plans to develop a mobile platform to connect qualified health interpreters in the Bay Area with patients with limited English proficiency; and Peter Bittner, a journalism student working to provide women migrants in Mongolia with the resources to develop their own small businesses.
Genevieve Smith, Savannah Hicks and Alexandra Alden, Berkeley graduate students, gave a presentation Saturday on a project called Voz Visionaria, based on an organization founded by Smith in 2012 to support adolescent girls in Latin America, particularly indigenous girls, struggling to get through college.
Voz Visionaria aims to give girls access to an online support network "where they can share visions and access humancentric design tools to put those visions into action," Smith explained. "So it's about building this network of girls."
In the closing plenary, O'Brien asked the former president — who, responding to a lone protester inside Haas on opening night, had stressed the "nonpolitical" nature of CGI U — noted the "wave of xenophobia" running through the 2016 campaign for the White House, and efforts by "certain politicians" to "prey on people's fears about the greater world."
"Do you worry," he asked, "it's going to be harder to have a global initiative when some people's fears are being stoked?"
"To make this work, there has to be a sense of coming together," Clinton said. "I'm not surprised by it, we just have to rise above it. You can't be afraid."
Then, in what could have served as a mission statement for CGI U itself, he added: "Your job is to build up the positive and shrink the negative, and recognize that you can't create a perfect world. You can only create a better world, and you can make the world better every day."