City of San Francisco and UC Berkeley to continue collaborating on 'smart cities'
This year's bid by San Francisco and UC Berkeley to win the U.S. Department of Transportation's Smart City Challenge failed, but the momentum generated by the collaboration has resulted in an agreement between the city and the university to continue to explore innovative urban transportation options, and ways that technology can improve city life in general.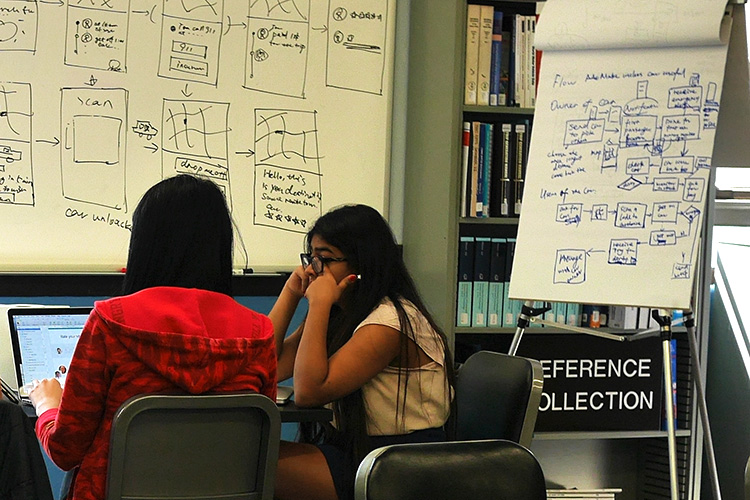 San Francisco Mayor Ed Lee and UC Berkeley Chancellor Nicholas Dirks signed a memo of understanding Sept. 2 to develop and test new programs to improve urban life for the residents of San Francisco and ultimately cities around the country and world.
"This MOU will create new opportunities to partner with industry on transportation and sustainability problems facing the Bay Area and positions UC Berkeley and San Francisco to jointly research and develop the solutions," said Lynne Hollyer, associate director of the UC Berkeley Industry Alliances Office.
To get the collaboration off to a rousing start, representatives from the city and UC Berkeley gathered with industry supporters for the Bridge SF 2016 conference at the Banatao Conference facility on campus on Wednesday and at the nearby Brower Center on Thursday, kicked off by a hackathon last weekend to spark ideas about how shared automated electric and connected vehicles will improve the way people and goods move within a city.
"Bringing together a diverse group of people to look at how goods and people will move as transportation technology and services advance and hearing their solutions was a wonderful experience," said Susan Shaheen, co-director of UC Berkeley's Transportation Sustainability Research Center and one of the people behind the city/university collaboration. "The excitement and passion in the room was very encouraging."
Hackathon winners developed an automated app much like Airbnb, but for peer-to-peer car-sharing. Their idea was that people would buy automated vehicles to rent out throughout cities and suburbs, helping to solve parking problems, reduce transportation costs and make better use of private vehicles, while owners would make money.
In line with Bridge SF's focus on urban mobility, economic development and resiliency, students and professionals at the hackathon tried to envision how vehicles could better serve the underserved, lead to greater safety, adapt to new and unpredictable changes, including emergencies, and work together with other shared services.
Shaheen and her colleagues within the Institute for Transportation Studies hope that the agreement between the city and the university will lead to more research and educational projects like this that "showcase the city as a vibrant, innovative and sustainable community."
The hackathon was supported by the International Association of Transportation Regulators, car2go, Siemens and Microsoft.