Chesa Boudin Brings a Lifetime of Experience to Lead New Criminal Law & Justice Center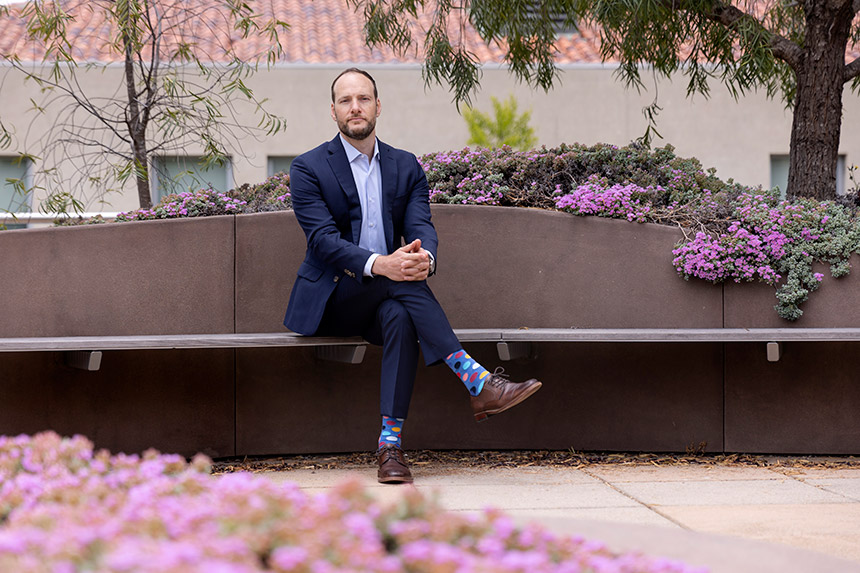 Chesa Boudin has spent his whole life grappling with incarceration and its far-reaching implications. As the founding executive director of Berkeley Law's new Criminal Law & Justice Center, he sees an exciting opportunity to build on his work of transforming the criminal legal system in profound ways.
"A lifetime of visiting my biological parents in prison and my work as a public defender and district attorney have made clear that our system fails to keep communities safe and fails to treat them equitably," Boudin says. "I'm thrilled to join the nation's premier public law school and engage with brilliant scholars and students to drive meaningful change by elevating the lived experience of those directly impacted."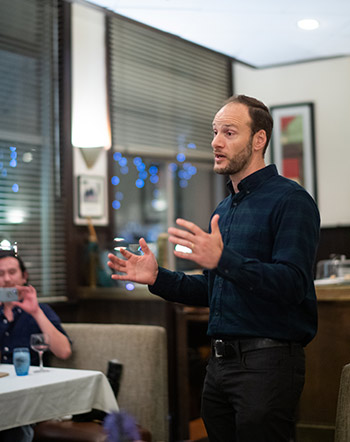 The center will be a research and advocacy hub to boost Berkeley Law's public mission in the criminal justice arena. It will help foster research collaboration among faculty members and others, enhance law students' training and practice opportunities, and strengthen connections between the university and the outside world.
"Since coming to Berkeley Law, I have wanted to create a criminal law and justice center to further advance the important work of our tremendous faculty and clinics in this area," Dean Erwin Chemerinsky says. "I am delighted to launch the center and that Chesa Boudin will be its first executive director. Chesa was chosen after a national search and has substantial experience across the criminal justice system. He has thought deeply about the system, and I cannot think of anyone better to create and direct this important center."
Graduate student researchers, student assistants, and visiting scholars will help the center provide support for teaching, research, and practice in criminal legal reform, facilitate a broad range of convenings, and tackle projects to address foundational problems — including structural inequities related to poverty and racism.
The United States confines a greater percentage of its population than any nation, with over 2 million people currently incarcerated and about 5 million more on probation or parole. Studies show that Black men have a 1 in 4 chance of being incarcerated compared to 1 in 23 for white men, Black women are six times as likely to be imprisoned as white women, and ethnic minorities are arrested more often and punished more severely than white people for the same offenses. 
A lifetime of experience 
Boudin's parents, former members of the radical political group Weather Underground, spent more than six combined decades in prison for participating in a 1981 Brinks truck robbery that led to the death of two police officers and a security guard. Boudin was 14 months old at the time. His mother was released on parole after being incarcerated for 22 years, his father after 40.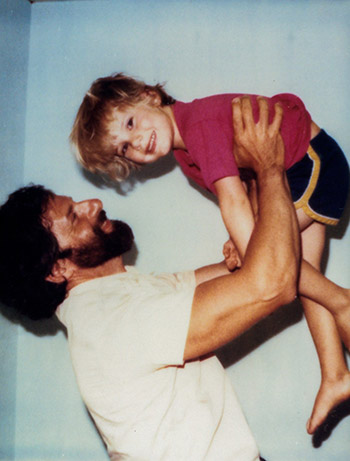 Raised by his adoptive parents on the South side of Chicago, Boudin became a Rhodes Scholar, went to Yale Law School, and clerked for two federal judges. He worked as a public defender and was elected San Francisco District Attorney in 2019, spending 2½ years in that role before being recalled in June 2022.
"As DA, I had a steep learning curve," Boudin says. "I saw how politics kept getting in the way of good policy that I cared deeply about implementing to make the system more just and the city more safe.
"That's in part why I'm so excited about this job — to engage with people doing deep thinking, not just sound-bite thinking, about what good policy should really look like in this space. What we've tried now for centuries isn't producing results that either political side is pleased with. We'll make project decisions in consultation with students, faculty, and most importantly communities affected by the criminal legal system."
Boudin also relishes a family link to his new position. His biological mother and adoptive mother each led university research centers focused on criminal justice, the former at Columbia and the latter at Northwestern. Columbia's Center for Justice and Northwestern's Children and Family Justice Center both still exist.
"Chesa understands that mass incarceration and privatized prisons disproportionately harm people of color and reflect the institutional inequities of America's legal system," says Angela Davis, an iconic civil rights activist and lawyer, author, and UC Santa Cruz professor. "Many people fear change, and the type of change he's pursuing would be transformative. Chesa is an exceptional leader, with a nuanced understanding of the challenges and barriers our system creates. He'll help Berkeley Law students become the kind of lawyers who propel true reform."
A push for practical solutions 
Boudin has identified four cornerstones for the center: policy advocacy, research, an annual conference, and education. This will involve legislative initiatives, impact litigation coalitions, policy papers, pilot programs, data analysis, bringing in formerly incarcerated people and reform movement leaders, and strengthening curricular criminal offerings within Berkeley Law as well as to the broader university and the public.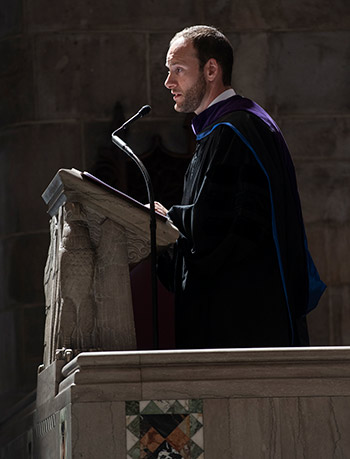 Having seen a frequent disconnect between academia and the "real world," Boudin hopes to bridge that gap in his new role. Noting that academic research, while critically important, is often conducted by people who haven't practiced law, he aims to engage students in pragmatic work that supports empirical research, statistical analysis, and policy oversight.
"As a public law school, Berkeley Law has a unique responsibility to shed light on issues too often dominated by fear mongering and scare tactics rather than facts and law," Boudin says. "Part of this will be to monitor implementation. Too often, we celebrate legislative reform on issues like money bail without examining how and if these new laws are actually being implemented in California's counties. Whatever criminal justice outcome we desire, we have to be cognizant of where the rubber meets the road and what change should actually look like."
Eager to work with Berkeley Law's faculty and clinics to energize projects that accelerate practical solutions, Boudin notes that the center will partner with other campus departments and outside groups on both timely projects and long-term efforts. He will also work with faculty, senior staff, and students to help expand an already robust criminal law curriculum.
Kim Foxx, who manages the nation's second largest prosecutor's office as State's Attorney for Cook County, Illinois, says Boudin will bring a relentless work ethic and a realistic lens to his new post. 
"Chesa has worked tirelessly to pursue vital changes to a deeply flawed system," Foxx says. "He knows that criminalizing poverty and homelessness entrenches racist policies and power structures, and that this approach fails to uphold the values of equal rights and due process we supposedly hold dear. Chesa is a fantastic fit for Berkeley Law's new criminal justice center because he's aspirational yet pragmatic, visionary yet collaborative, brilliant yet humble."
Finding the right terrain 
As district attorney, Boudin eliminated cash bail, established a unit to reevaluate wrongful convictions, sought to increase police accountability, and lowered sentences for nonviolent offenses while calling for improved drug treatment and mental health services. He also implemented a diversion program for primary caregiver parents of minor children who were charged with misdemeanors or nonviolent felonies, in accordance with a bill Gov. Gavin Newsom signed into law. 
Last year, while discussing potential career options with Chemerinsky and reviewing them with his wife Valerie, Boudin increasingly saw Berkeley as fertile ground for his passions and priorities to flourish.
"It really is a perfect fit," Boudin says. "I wanted a job that draws on three personal and professional experiences that have been defining for me: a lifetime of direct experience with my biological parents spending 62 combined years in prison, my career as a public defender doing direct service work through individual client representation where I saw the everyday injustices of our so-called justice system, and my time in elected office where I focused on broader system change."
Yale Law Professor Judith Resnik saw early signs of legal savvy and leadership skills in class, and when Boudin received a coveted one-year fellowship from the school's Arthur Liman Center for Public Interest Law, which he served in the San Francisco Public Defender's Office.   
"Chesa is a wonderful fit for the founding director of this new center on the criminal legal system," she says. "I have known him since he was a first-year law student, watched him distinguish himself as an adept analyst, supervised a paper he wrote on children's rights to see their imprisoned parents, and then chaired the committee that selected him to be a Liman Fellow.
"Since his graduation, Chesa has been a public servant, working for judges, as a criminal defense lawyer, and as a prosecutor. Throughout, he focused on law's impact on people and communities. It will be wonderful for him to join Berkeley Law's faculty in educating generations to come on how to use law to lessen the harms of violence and increase community ties. I look forward to watching Chesa expand our horizons in this position as he has in his work before coming to Berkeley."