Chancellor's Final Back-to-School Briefing has the Ring of Success
In Augusts past, Berkeley Chancellor Robert Birgeneau would typically welcome the media to California Hall, offer his take on the coming year, and open the floor to reporters' questions.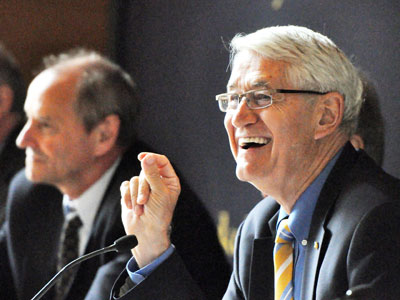 For his final back-to-school briefing before he leaves office, Birgeneau turned the event into something more akin to a "state of the university" address. On Thursday, in the Haas Pavilion's Club Room, he and a half-dozen other campus leaders seized the opportunity to make a persuasive case that despite massive cuts in state funding, the twin pillars of his eight-year tenure as chancellor — access and excellence — are thriving.
The state of the university, they stressed, is remarkably strong on a variety of fronts, from academic achievement to faculty recruitment and retention to access for California's students, whose numbers at Berkeley are greater than they were when Birgeneau arrived on campus in 2004.
Several speakers noted that the decision to admit increasing numbers of out-of-state residents has not had the deleterious effect on admissions of California residents that some had feared. On the contrary, said Executive Vice Chancellor and Provost George Breslauer, the higher tuitions paid by nonresident students have enabled the campus to dramatically boost undergraduate course offerings.
The numbers, he said, tell the story: Over two years, Berkeley has seen a cumulative increase of 4,684 enrollments in math and science introductory courses, with 5,822 enrollments in lab and discussion sections; and 3,222 additional enrollments in reading and composition classes, made possible by an increase of 184 course-section offerings.
"This has been a huge success," Breslauer said. The university's vitality, he said, has also helped it recruit and retain faculty at rates that match or better past performance, and out-compete schools like MIT, Stanford and Harvard for the best graduate students.
Berkeley's ability to snatch success from the jaws of the state's budget machine, in fact, emerged as the leitmotif of Thursday's event, expressed in different ways and in different contexts by speaker after speaker.
While the campus has experienced "massive change" in its revenue structure — state funding, once 52 percent of the total budget, has shrunk to less than 11 percent — Berkeley has been "incredibly successful" at attracting research grants and contracts and private philanthropy, said John Wilton, vice chancellor for administration and finance. Along with systemwide hikes in tuition and fees, these funding sources have allowed the campus to prosper.
Savings from Birgeneau's Operational Excellence initiative, he added, have exceeded the $25 million predicted for last year, and cash reserves have helped "cushion the blow" of state cutbacks.
"We can make our budget balance," declared Wilton, "and we can continue to make Berkeley grow."
Even as Berkeley adapts to a changing financial picture, it has remained accessible to California residents, said Associate Vice Chancellor Anne De Luca, who noted that the campus will enroll 21,450 in-state residents this year — 1,000 more than it did when Birgeneau became chancellor.
"We are continuing to grow our non-resident student population," she said, "but not at the expense of California residents."
Booms in applicants, research, building, donations
As with grad students, Berkeley remains attractive to undergrads, garnering a record number of applicants this year. And while academic quality is extremely high, De Luca added, the campus continues to support students from all economic backgrounds. One in four freshmen come from families whose incomes are under $40,000 a year, and 40 percent of all undergrads pay no tuition.
Also on the dais Thursday were Graham Fleming, vice chancellor for research; Ed Denton, vice chancellor for facilities services; and David Blinder, associate vice chancellor for university relations.
Fleming, pointing to initiatives like the Berkeley Skydeck startup accelerator, the Berkeley Energy and Climate Institute and the Simons Institute for the Theory of Computing, said "research is booming," with over $700 million in new funding last year — an increase of 38 percent from a decade earlier.
Denton cited the campus's building boom — much of it dedicated to scientific research — which, he noted, addressed seismic safety and infrastructure in addition to new structures like the Energy Biosciences Building and the Li Ka Shing Center for Biomedical and Health Sciences. By taking advantage of a favorable construction climate, he said, his division managed to save $26 million in bids, enabling it to return $29 million to the campus over the past three years.
Blinder, reminding reporters that the $3 billion Campaign for Berkeley was announced just before the nation's financial crash in the fall of 2008, said the campus had nonetheless had just completed its second-best year of fundraising with $395 million in gifts and pledges. That, he said, represented an increase of 25 percent over the previous year.
 Birgeneau, for his part, expressed particular pride in the 2012 Academic Ranking of World Universities, in which Shanghai Jiao Tong University placed Berkeley fourth in the world overall. Unlike other rankings, he said, the ARWU is not based on reputation or the wealth of alumni, but on quantitative data reflecting academic excellence.
This year's ranking, Birgeneau said, is "a measure of how good a job we're doing of educating outstanding young people," and shows that Berkeley is "one of the top universities in the world, public or private."
"We've done a remarkable job in responding to a terrible situation," Wilton said, acknowledging the "real strains and stresses" of dealing with years of state disinvestment in higher ed.
Both he and Birgeneau warned, however, that it remains vital that California voters approve Proposition 30, Gov. Jerry Brown's sales and income-tax ballot measure, in November. The initiative's failure would mean a likely state-funding cut for UC Berkeley alone of more than $50 million, an amount he said "would be extraordinarily difficult for us to manage over the next year."
And while he'll no longer be in the hot seat in California Hall — "I'm planning to be in my laboratory on Jan. 2," he joked — he made what might be one of his final pleas for an end to the state's disinvestment in its institutions of higher learning.
"The people of California can be proud that they have an extraordinary educational system," Birgeneau said, "and we hope that they will begin to support it again in the future the way that they did in the past."
Berkeley, at a glance