A century later, Ishi still has lessons to teach
They came both to bury Ishi — at least the outdated notion of Ishi prevalent in pop culture — and to praise him. They came to learn from him, to remember him not as a research subject but as a teacher, not as an artifact of a vanishing culture but as a survivor and, as Berkeley law professor Karen Biestman put it, "a pioneer of indigenous intellectual property protection."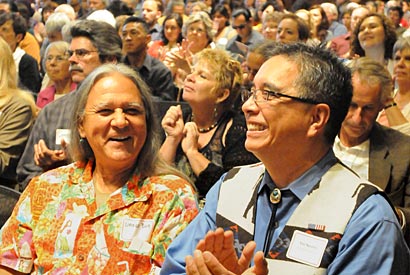 Joseph Myers, a School of Law graduate and lecturer in Native American studies here, put it more simply.
"I like the idea of celebrating Ishi," Myers said. "But let's celebrate him as a human being. "
Biestman and Myers were among the speakers, panelists and celebrants at a daylong conference, "A Century of Ishi," to commemorate the life and legacy of the man who walked out of what had long been Yahi territory into Oroville on Aug. 29, 1911, and was promptly arrested. Dubbed "the last wild Indian," he was brought to live in Berkeley's anthropology museum, which was then located in San Francisco, by Berkeley anthropologists Alfred Kroeber and Thomas Talbot Waterman.
Ishi — named by Kroeber after the Yana word for "man" — was thought to be Yahi, a group that was all but wiped out in a series of deadly raids by white settlers in the wake of the Gold Rush. He lost his family as a child, and spent most of his life alone and in hiding in the Sierra wilderness. Befriended by Kroeber, he devoted his remaining years to sharing much of his history, language and culture with researchers until his death of tuberculosis in 1916.
That's why Earl Neconie, a Kiowa who gave the opening blessing, asked the audience of more than 300 gathered at the Clark Kerr campus to remember "all the things [Ishi] was able to accomplish as the first Native American employee here at Cal."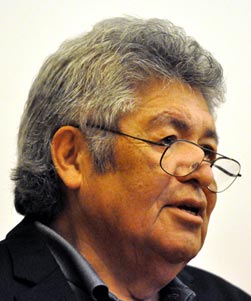 "He is a hero to many of us, he was a diplomat, he came from a different culture," said Myers, chair of the campus's Joseph A. Myers Center for Research on Native American Issues. "He came from that culture in order to survive, in order to live. And ironically, he came to a community of people that were out to destroy Ishi and his community and the rest of the Indians of North America."
But Ishi "wasn't the last wild Indian," protested Myers, who is Pomo. "I'm here." Not waiting for the laughter to die down, he went on: "Some of my tribal members and colleagues are still wild. Even some white folks are wild."
Correcting the record — of Ishi, of Native Americans, of California and American history — was a thread that ran through a day of talks, panel discussions, a film showing and an airing of parts of wax-cylinder recordings Ishi made in a series of sessions from September 1911 through early 1912.  The Sept. 7 conference — held on the 100th anniversary of Ishi's historic "wood duck" recording — was co-sponsored by the California Indian Museum and Cultural Center and Berkeley's Phoebe A. Hearst Museum of Anthropology.
"Museums have changed a lot in the last four years," said Mari Lyn Salvador, the Hearst's director, citing "a big intellectual shift" in the representation of Indians and Indian culture. That was the consensus, however cautious, of a panel on the topic that featured, among others, Sherri Smith-Ferri, director of the Grace Hudson Museum and Sun House in Ukiah, and Nicole Lim, a Berkeley grad who now heads the California Indian Museum in Santa Rosa.
"California Indians used to be represented in museums in a very authoritative 'other' voice," said Smith-Ferri. Now, increasingly, she finds "a multiplicty of voices," the result of Indians themselves being consulted in, if not actually leading, the curation of exhibits on Native culture.
Lim, noting the crippling effects of false and negative imagery, said changing the way Indians are portrayed "is about raising the self-esteem of Native youth."
Putting to rest stereotypes of American Indians, and Ishi in particular, was the beating heart of the conference.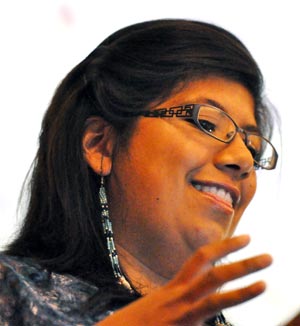 On the 100th anniversary of the making of Ishi's best-known recording, Maryrose Barrios, a Berkeley physics major, described her work with scientists at Lawrence Berkeley Lab to improve the audio quality of dozens of scratchy original recordings and transfer Ishi's stories and songs to newer technologies. She played a number of versions of several recordings in which Ishi's own voice grew progressively clearer, a kind of metaphor for the day.
Leanne Hinton, a Berkeley professor emerita who has worked extensively to preserve dying languages, explained how linguists have struggled to translate Ishi's recordings, and to use them to understand a dialect only Ishi himself still spoke a century ago.
As generous as Ishi was with his time and knowledge, Biestman noted it was "his strategic choice not to share his name" with Kroeber and his colleagues. Much, in fact, is still not known about him, she added, "because he chose to keep it private."
That choice, she argued, goes to the question of "who owns culture, and how can Ishi's life inform our understanding of cultural stewardship and indigenous intellectual property protection?"
To Biestman, an associate dean and director of Stanford's Native American Cultural Center, Ishi's refusal to share everything he knew stands as a rebuke to the ongoing commodification of Indian life and culture.  Examples range from the ubiquity of sports names and mascots like "Redskins" and "Braves" to the commercial appropriation, often by New Age entrepreneurs, of such sacred traditions as sweat lodges, to the marketing of "Crazy Horse Malt Liquor," named for the Oglala Lakota leader who defeated Custer at Little Big Horn — and who, Biestman noted, "adamantly opposed alcohol use."
"Citing the erosion of tribal sovereignty and assaults on tribalism, Native critics argue that the final frontier of resistance is cultural protection," she said. What sustains tribal communities today, she added, are "languages, names, stories, song, dances, ceremony" and other indigenous forms of knowledge.
"In the end," Biestman declared, "cultural intellectual property protection is a form of sovereignty."
One reason for the persistence of the "last wild Indian" trope, Myers speculated, is the comfort to be found in the belief that if "the last one is gone," then "we've done our job."
By celebrating Ishi as "a human being," as part of a culture that does, in fact, live on, the conference made clear that our efforts at understanding have barely begun.