Campus hosts "Tsinghua Week"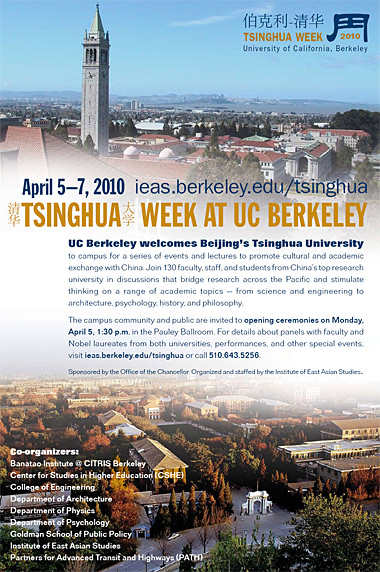 Nobel Prize winners, faculty, administrators and students from the University of California, Berkeley, and Tsinghua University in Beijing will meet April 5-7 to strengthen academic and cultural ties. They will explore collaborations in fields ranging from science, engineering and transportation to architecture, public policy, psychology, philosophy, history, social welfare and higher education.
Organizers said that units, departments and schools from across the disciplines will promote exchange with China on numerous topics of mutual interest during this event, which is unique because of the wide range of issues being addressed and the large number of participants. About 130 representatives from Tsinghua are expected.
The three-day event will kick off on Monday, April 5, with keynote speakers from Tsinghua and UC Berkeley exploring China's innovation evolution over the last 30 years and the scientific search for good news in the human genome.
The opening panel for Tsinghua Week will highlight scientific exchange between UC Berkeley and Tsinghua University in an examination of "Eastern" and "Western" views of physics today. Panelists will include UC Berkeley Chancellor and professor of physics Robert Birgeneau, UC Berkeley Nobel laureates Charles Townes and George Smoot, Tsinghua University Nobel laureate Chen Ning Yang and other faculty members from both universities.
On Tuesday, concurrent academic panels will address issues and trends in higher education in the United States and China, transportation planning, the globalization of political thinking, energy-efficient buildings, global entrepreneurship and psychology in a global context.
Event organizers noted that Tsinghua faculty members are particularly interested in conversing with UC Berkeley faculty in the humanities and social sciences.
Student exchange will also be an important facet of Tsinghua Week, as students from both universities come together to share experiences about life as a university student in the United States and China. Tsinghua students will perform dance and musical numbers in conjunction with UC Berkeley's Men's Octet in Upper Sproul Plaza at noon on Tuesday, April 6.
All programs are free and open to the public. A schedule is online at the Institute of East Asian Studies. The events will take place at various locations on and off the central campus. The opening and closing ceremonies, keynote speeches, and the panels on physics and higher education, will be videotaped and available at webcast.berkeley.edu.
Tsinghua Week events are hosted by UC Berkeley's Office of the Chancellor and organized and staffed by the Institute of East Asian Studies.
Tsinghua University offers programs in science, engineering, humanities, law, medicine, history, philosophy, economics, management, education and art. It has close to 26,000 students and among Tsinghua's many distinctive alumni is Chinese President Hu Jintao. More information about Tsinghua is available online.