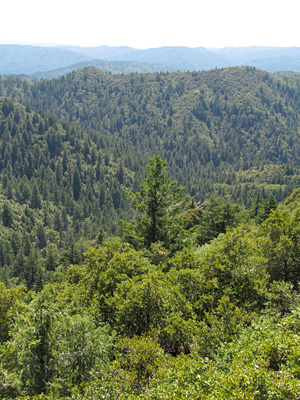 One prediction of the model that is consistent with observations is that the weathered rock layer thickens towards the ridges that divide hillslopes.
"We are attempting to explain why some landscapes are covered with soil and deep weathered bedrock while others have bare fresh bedrock exposed at the surface," Rempe added. "Our hypothesis is that the primary control is the relative rate of surface erosion versus drainage of underlying fresh bedrock."
Dietrich and Rempe hope to drill at ridge tops to measure the thickness of weathered rock in order to test their model and confirm the key role played by drainage of fresh bedrock in setting the thickness of weathered bedrock across hilly and mountainous landscapes.
The work was supported by the Keck Foundation, through the Keck Hydrowatch project; the National Center for Earth-Surface Dynamics; the National Center for Airborne Laser Mapping; and the National Science Foundation, through the Eel River Critical Zone Observatory. Rempe received support from the Department of Energy Office of Science Graduate Fellowship Program, made possible in part by the American Recovery and Reinvestment Act of 2009.

RELATED INFORMATION