Berkeley researchers tackle California's carbon footprint

A newly launched UC Berkeley-powered state program aims to shrink California's bulging carbon footprint at the grassroots level by helping individuals make better energy-related choices in the home, on the road and at the store.
Sponsored by the California Air Resources Board, the Cool California Challenge, which kicked off April 1, brings together 10 cities in a yearlong community-based competition to cut carbon emissions — with the winner crowned California's Coolest City.
"Most Californians believe that climate change is a problem and that we should take action to reduce our carbon impact," says Christopher Jones, head researcher at Cool Climate Network, an applied-research consortium at Berkeley's Renewable and Appropriate Energy Lab, or RAEL.
"As with a lot of behaviors we would like to change, like eating healthier or getting more exercise, when it comes to carbon emissions good intentions are often not enough to achieve long-term change," Jones says.
Jones, a doctoral student at Berkeley, developed the first carbon calculator in collaboration with Daniel Kammen, professor of energy and resources and RAEL director.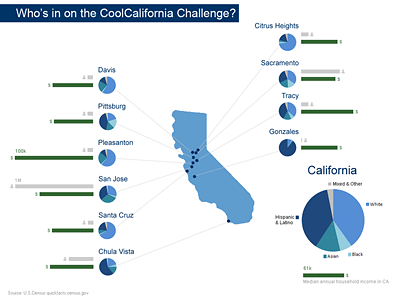 The new challenge program, which is built around more sophisticated versions of Jones' original carbon calculator, combines social media and community networking with a points-based rewards system designed to connect and motivate individuals, social groups, schools and small businesses to create healthier, more sustainable communities.
"People are ready and willing to change their behaviors, they just need the right framework of information, tools and support," Jones says. "This is our first attempt to create a program that puts together the research findings, experiential knowledge and everything we've learned over the years."
The new pilot program's flexible community-oriented framework will also support cities efforts to achieve municipal climate-action goals and state-mandated reductions in green house gas emissions. The 10 participating cities will partner with community groups and business organizations to increase awareness, encourage participation and attract sponsor support at the local level.
The cities of Chula Vista, Citrus Heights, Davis, Gonzales, Pittsburg, Pleasanton, Sacramento, Santa Cruz, San Jose and Tracy will participate in the preliminary round of the two-stage competition runs through the end of July. The top three carbon-cutting cities will then battle it out over the remaining eight months of the challenge.
Residents of participating cities can sign up to join the challenge at the coolcalifornia.org website. Enter your location and some basic benchmarking information about household size, income and lifestyle and you're up and running with 100 points just for signing up.
Individuals can use the website's toolkit of informational resources and user-friendly calculators to estimate their carbon footprint, target reductions, map out action plans, track progress and compare their performance to other similar households. The online tools, which track performance on a month-by-month basis, also allow residents to network with groups in their communities to share carbon profiles, progress and strategies.
"At the statewide level, one of the things we're trying to do is to redefine what it means to be a cool Californian," Jones says. "Being environmentally conscious has long been part of our identity, and reinforcing that norm, reminding people of what's expected of them, can be a powerful motivator for change."