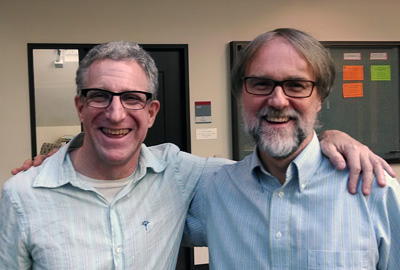 The documentary's East and West Coast premieres demonstrated that it resonated not only with scientists – one scientist in the audience tearfully exclaimed, "this really shows what my life is like" – but also members of the public. After the premieres, most audience members stayed for his Q&A, Levinson said, and many lingered outside the theaters afterwards discussing the film.
Levinson has nothing but praise for his UC Berkeley mentor, Geoffrey Chew, now a professor emeritus of physics, for inspiring him and pushing him to complete his PhD ('83) even though it was obvious to Chew that Levinson had become enamored of film.
"I am really gratified to Geoff, but Berkeley also sent me away from physics; it is where I found my place as a filmmaker," he said.
Levinson is now working with educators to turn the film into a middle school curriculum that will show the true excitement of scientific research as well as the leadership roles played by women like Gianotti.
"We hope it is going to be groundbreaking in the way we view science and scientists," he said.
Related information: