Berkeley hosts manufacturing brainstorm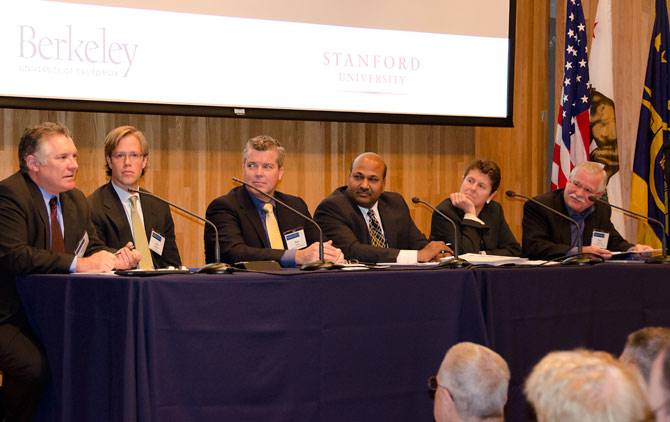 Representatives from government, industry and academia gathered at UC Berkeley Monday to discuss strategies to re-establish the United States as a global leader in advanced manufacturing.
Co-hosted by Berkeley and Stanford, the daylong Advanced Manufacturing Partnership regional meeting at the Bechtel Engineering Center aims to jump-start the national effort launched by President Obama in June.
The mission of the AMP is to identify opportunities for investments in research and development, public-private and intra-industry collaboration and shared facilities and infrastructure, which have the potential to transform advanced manufacturing in the United States.
"U.S. manufacturing stands to reap tremendous benefits from emerging novel technologies in synthetic biology, cyber-physical systems, nano-engineered materials, therapeutics and energy efficiency," said Shankar Sastry, dean of the College of Engineering.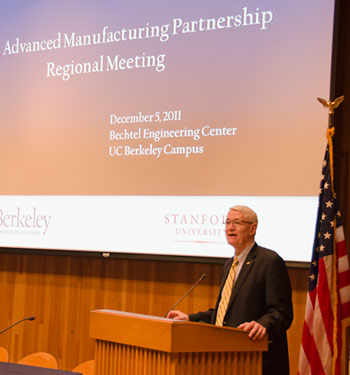 The Obama administration enlisted the help of Berkeley Chancellor Robert Birgeneau and the presidents of several other leading research universities to work with major American manufacturers and federal government agencies to develop an action plan of concrete recommendations for advanced manufacturing technologies.
Monday's regional meeting attracted more than 300 representatives from leading government agencies, universities, research facilities and corporations big and small. Breaking out into parallel working groups, attendees discussed ideas on how to support and improve advanced manufacturing across five key streams, from clean energy to medical technology.
"This conference aims at developing the roadmaps for design, manufacturing and policy pathways to transform these innovations into dramatically enhanced pathways for job creation in the United States," Sastry said.
Preliminary recommendations outlined during an end-of-conference briefing focused on increased collaboration across and between universities, national research laboratories and industry; the streamlining of regulatory environments and increased government support for research and development; and the creation of centers for excellence in fields of advanced manufacturing.
The working groups also advocated for greater industry engagement with education at all levels, and a renewed emphasis on, and funding of, science, technology, engineering and mathematics curricula in the nation's schools and universities.
The regional meeting hosted by UC Berkeley is one of four conferences to be held across the United States. Members of the AMP steering committee will visit Washington Dec. 8 to deliver recommendations to the White House.