Berkeley Engineering launches collaboration with Shanghai innovation hub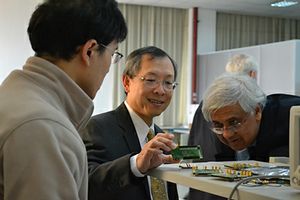 On November 11, 2011, the College of Engineering at the University of California, Berkeley announced a new partnership with the Shanghai Zhangjiang Hi-Tech Park, one of China's top high-technology parks, to develop a platform for expanding industrial and academic research collaborations in Asia and fostering global learning opportunities for Berkeley students.
Established in 1992, Shanghai's Zhangjiang Hi-Tech Park is a hub for technology innovation and home to regional offices for many U.S. and global companies. The College of Engineering's partnership with Zhangjiang is the first step toward establishing a Berkeley Engineering office in Shanghai to expand collaborative innovations in research, beginning with areas such as information and communications technology, green energy technology, translational medicine and biotechnology.
"We are building on our strong relationships with companies and Shanghai-based universities to extend our reach and accelerate the impact of Berkeley Engineering in Asia," said Berkeley Engineering dean S. Shankar Sastry. "Through this partnership with Zhangjiang, we will not only increase our global research collaborations, but also expand opportunities for Berkeley students to study abroad and acquire global industry experience."
Sastry continued, "In Shanghai, our students will gain insight into China's dynamic innovation ecosystem through research projects and internships. This will greatly enhance our mission to educate global leaders."
Initial corporate research partners are expected to include such global companies as Marvell, HTC, VeriSilicon and Network Appliance, as well as Shanghai-based companies such as SMIC and Grace Semiconductor. Potential academic research partners include Shanghai Jiaotong University, Fudan University, Tongji University and the Chinese Academy of Sciences' Shanghai Advanced Research Institute's new university. Research collaborations are expected to begin as early as July 2012.
The College of Engineering is also considering expanding its new Master of Engineering (M.Eng.) degree program to include a part-time option for Berkeley-based students interested in studying in China, and for China-based students to study here.
"A key feature of our M.Eng. curriculum is the integrative capstone project, which gives students experience in applying their knowledge and skills to solve problems taken from industry," said Sastry. "The Zhangjiang program will expose our students to a broad set of technology and global marketplace challenges beyond the realm of Silicon Valley."