Be vigilant global 'netizens,' not passive 'users,' Internet scholar-activist urges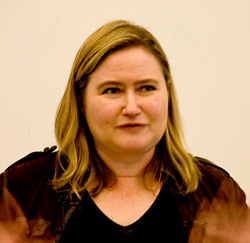 "Sorry, your article has failed to be published. It contains inappropriate material."
"Your account will be deleted if you are dishonest again."
Messages such as these are found "all over the Chinese Internet," scholar-activist Rebecca MacKinnon told a campus audience Tuesday. "Things get removed all the time."
MacKinnon, who was born in Berkeley, became a CNN bureau chief (in Beijing, then Tokyo), and later an Internet-freedom activist and co-founder of the citizen-media network Global Voices. Her lecture at the School of Information addressed the worldwide struggle for Internet freedom, which is also the subtitle of her just-published book Consent of the Networked.
While overt blocking of websites by the People's Republic of China is ubiquitous and storied, MacKinnon said, that is only "the first level of censorship" in the world's most populous nation. The second is self-censorship, as Chinese Internet businesses and organizations are required by law to "police what users are doing" — blocking pornography, copyright violations and politically forbidden material — or risk going to jail. Companies like Baidu, the search engine and web service, and the microblogging site Weibo are so worried about violating government strictures that they over-censor, she said.
But China's official and extensive system of Internet suppression is a cautionary tale for the rest of the world, from Middle Eastern nations emerging from dictatorship to mature Western democracies. China may block downloads of Dalia Lama iPhone apps, MacKinnon noted, but Facebook is increasingly being asked by democratic governments "to take down content." And not until he won a Pulitzer Prize could American political cartoonist Mark Fiore get his iPhone cartoon app past "Apple's satire police," she said.
Across the globe, web content is being censored by companies "at the behest of government, rather than by government directly," MacKinnon warned. The U.S. is no exception. Here, proposed legislation like the "Stop Online Piracy Act" (SOPA) and the "Protect IP Act" (PIPA) would, if codified, put U.S. Internet companies in the same position as their Chinese counterparts, having to actively monitor and adjudicate content, she said.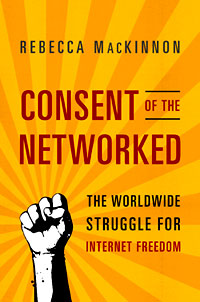 On popular social-networking sites like Facebook and Twitter, terms-of-use agreements (regarding privacy, account identity and more) "are based primarily on commercial considerations, not political rights or civil liberties," she noted. "When you click the 'agree' button, you say 'First Amendment rights don't apply.'"
How, then, to protect civil liberties, privacy and even the character of democracy in a networked world? For starters, MacKinnon believes we need to think of ourselves not merely as passive "users" of digital technologies, but as global "netizens" — working to safeguard our rights on global, often privately owned digital platforms, and to actively nurture a "robust, healthy digital commons." Currently, the Global Network Initiative and the Internet Rights and Principles Coalition are just two of the grassroots organizations working on issues like Internet standards, governance, transparency and accountability, she said.
We need to be asking a lot more questions of our governments — saying "'What are you doing to protect my civil liberties on the Internet, in addition to defending our networks from cyber-attack?'" McKinnon urged. "We need to figure out how to ensure that business and governance structures are compatible with the ideals and values we have as a society."