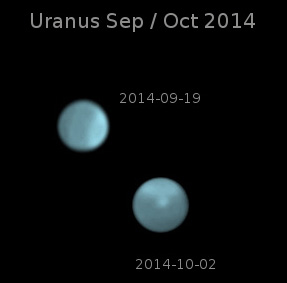 De Pater and her colleagues have been following Uranus for more than a decade, charting the weather on the planet, including bands of circulating clouds, massive swirling storms and convective features at its north pole. Bright clouds are probably caused by gases such as methane rising in the atmosphere and condensing into highly reflective clouds of methane ice.
Because Uranus has no internal source of heat, its atmospheric activity was thought to be driven solely by sunlight, which is now weak in the northern hemisphere. Hence astronomers were surprised when these observations showed such intense activity.
Observations taken with the Keck telescope by Christoph Baranec, an assistant professor at the University of Hawaii on Manoa, revealed that the storm was still active, but had a different morphology and possibly reduced intensity.
"If indeed these features are high-altitude clouds generated by flow perturbations associated with a deeper vortex system, such drastic fluctuations in intensity would indeed be possible," Sromovsky said.
"These unexpected observations remind us keenly of how little we understand about atmospheric dynamics in outer planet atmospheres," the authors wrote in their paper.

RELATED INFORMATION