Alivisatos appointed Samsung Distinguished Chair in Nanoscience
Chemist Paul Alivisatos, one of the pioneers of nanoscience, has been appointed to the Samsung Distinguished Chair in Nanoscience and Nanotechnology at UC  Berkeley in recognition of his many scientific achievements.
The endowed chair, established through the support of Samsung Electronics Co., will help cement the campus's leadership in research and innovation in an area that has great implications for many fields ranging from biology to energy, the Office of the Vice-Chancellor for Research announced Friday (Aug. 23). Alivisatos, director of the Lawrence Berkeley National Laboratory and a UC Berkeley professor of chemistry, is known for his research into quantum dot semiconductor nanocrystals, clusters of hundreds to thousands of atoms with novel properties that can be applied to electronic devices and solar cells as well as light-emitting diodes (LEDs).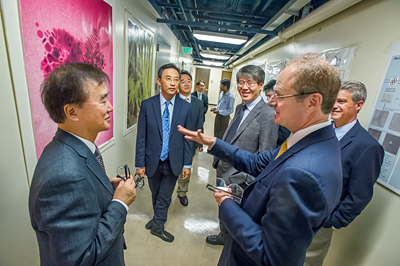 Dr. Youngjoon Gil, executive vice president of the Samsung Advanced Institute of Technology, welcomed the appointment.
"Historically, the invention of a new material can initiate a quantum leap in the development of industry," said Dr. Gil. "Nanomaterials offer such opportunities for the electronics as well as the biosciences industry, where precise control and manipulation of energy is required. Quantum dot, pioneered by Professor Alivisatos, has established its commercial value by reproducing more realistic colors on displays. Through the establishment of the endowed chair, Samsung anticipates a closer partnership with UC Berkeley, the world's leader in nanoscience, in exploring the commercial value of nanotechnology."
Over the past two decades, UC Berkeley has become a brain trust in nanoscience and nanotechnology, with nearly a hundred nanoscience and nanotech researchers in the fields of biology, chemistry, physics and materials science. These researchers have made major advances in understanding the nano-scale molecular motors that move materials around inside cells or manipulate DNA; creating tiny motors, lasers and photonic devices for smaller electronic circuits; creating flexible and inexpensive solar cells from nanorods; and understanding the properties of new materials such as graphene and high-temperature superconductors.
Graham Fleming, UC Berkeley's vice chancellor for research, lauded Samsung for its initiative in establishing this chair.
"The new chair helps build on our strengths in the conversation and utilization of energy on the nano scale," said Fleming. "It is a fitting recognition of Paul's achievements and his world-wide influence on the field of nanoscience. We look forward to continue expanding our relationship with Samsung in this area."
Alivisatos is widely recognized for his contributions to the study of nanocrystals, ranging from control of their synthesis and fabrication to studies of their optical, electrical, structural, and thermodynamic properties. He demonstrated that semiconductor nanocrystals can be grown into rods as opposed to spheres. This achievement paved the way for a slew of new synthetic advances, developing methods for controlling the shape, connectivity and topology of nanocrystals.
Nanocrystals are typically a few nanometers in diameter — larger than molecules but smaller than bulk solids — and frequently exhibit physical and chemical properties somewhere in between. Given that a nanocrystal is virtually all surface and no interior, its properties can vary considerably as the crystal grows.
Alivisatos's research has opened the door to a number of potential new applications for nanocrystals. These include their use as fluorescent probes for the study of biological materials and LEDs, and the fabrication of hybrid solar cells that combine nanotechnology with plastic electronics.