After-school soccer program promotes exercise among low-income overweight youth
After-school soccer programs look like a win for increasing physical activity among overweight youth in low-income neighborhoods, according to a new study.
Researchers at UC Berkeley's School of Public Health looked at the impact that long-running after-school soccer and literacy program, America SCORES, has on physical activity, weight, and cardiovascular fitness among diverse elementary school students in low-income neighborhoods of San Francisco. The program is voluntary, with two hours of soccer offered two to three days a week after school.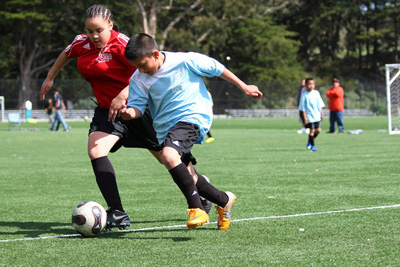 Over the course of the school year, researchers found that the program increased moderate-to-vigorous physical activity (MVPA) by an average of 3.4 minutes per weekday and 18.5 minutes on Saturdays among students with a body mass index (BMI) at or above the 85th percentile, when compared with students at control schools who did not have the SCORES program. The program did not significantly increase physical activity among children who were not overweight or obese.
"We were excited that we saw an impact in the overweight kids because these are the kids at greatest health risk and often those least likely to respond to these kinds of programs," says Dr. Kristine Madsen, a pediatrician and assistant professor at the UC Berkeley School of Public Health. "There is so often a ceiling on how much kids exercise and it is really hard to move that number," she adds.
People who are overweight or obese as children are more likely to be overweight or obese as adults, and are at greater risk for type II diabetes, cardiovascular disease, bone or joint problems and sleep apnea, according to the CDC. One in three children in the United States are overweight or obese, with even higher rates among minority and low-income populations, making sustainable, affordable exercise interventions for school-aged children a pressing need, authors note.
"One of the great frustrations facing a pediatrician in treating overweight kids, is that families may really want to make a change, but they leave the clinic and return to the exact same environment, where there are few opportunities and little space for physical activity," Madsen says. "We have to work within the community," she adds.
In one of the schools they worked in, for instance, due to space constraints, the playground was shared with a parking lot, which meant they would have to shut down activity anytime a car wanted to exit.
"In urban environments, you're competing with other programs for space and funding is limited. Even with these limitations the SCORES program was able to get kids up and moving," says Madsen.
The SCORES program, which operates in 15 cities across the country, was designed to have SCORES employees implement the program. However, recent cuts to school funding led the schools in the study to adopt a "train-the-trainer" model, in which existing after-school employees are trained to run the program themselves. This approach has been successful in other SCORES locations, but this study represents the first evaluation of train-the-trainer in new schools.
Despite the increase in physical activity, the program did not show a significant difference in weight loss or fitness among overweight students—an outcome that Madsen says usually takes more time.
"You almost never see changes the first year a program is implemented. Just seeing an increase in physical activity is a very promising finding," she says.
These findings are particularly relevant given First Lady Michelle Obama's launch of the "Let's Move! Active Schools" program last week. Building on her "Let's Move!" campaign to reduce child obesity, the new $150 million program aims to by 2018 have 50,000 schools across the United States to provide at least one hour of physical activity per day—the national recommendation for children. SCORES and other community-based, affordable after-school programs to increase physical activity could serve as an integral ingredient in this effort.
The study was published online in JAMA Pediatrics on February 25.