Actively engaging in Healthy Schools Program linked to reduced student obesity
An evaluation of a school-based program to prevent childhood obesity finds encouraging signs that the effort is making a difference.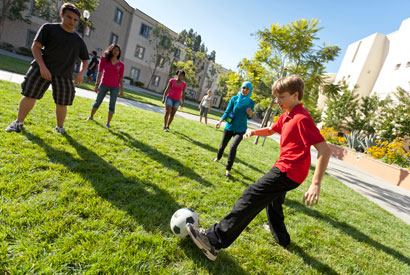 Researchers from UC Berkeley's School of Public Health analyzed 281 schools in California that participated in the Alliance for a Healthier Generation's Healthy Schools Program from 2006 to 2012, and matched them to 709 other comparable schools in the state. They collected body mass index data of students in fifth, seventh and ninth grades every year during the study to determine whether there were any differences in the prevalence of overweight and obese children.
The findings were recently published inPreventing Chronic Disease, a journal of the Centers for Disease Control and Prevention.
The analysis found that schools that engaged more with the program and made on-the-ground changes to their policies — such as ensuring students get daily recess or physical education and discouraging candy and sugary foods in classroom celebrations — saw greater reductions in the prevalence of student obesity.
If schools simply enrolled in the program and did not actively participate, however, there were no significant changes in overweight or obesity prevalence between schools in the program and those outside the program.
"It's not surprising that just signing one's name to a program doesn't miraculously result in changes to student health," said study lead author Dr. Kristine Madsen, a UC Berkeley associate professor of public health nutrition, whose team conducted all the analyses. "It actually takes a bit of work on the part of the schools to take advantage of what the program has to offer."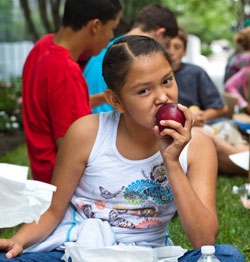 The Alliance, founded 10 years ago by the Clinton Foundation and the American Heart Association, provided data to the researchers for this analysis. The organization launched the Healthy Schools Program in 2006 with funding from the Robert Wood Johnson Foundation. The goal was to head off the nation's rising rates of childhood obesity by supporting healthy, sustainable changes in schools.
Studies have shown that kids who are fit and well-nourished are more likely to do well in school, the researchers pointed out.
Notably, the program targets high-need schools, such as those in lower-income neighborhoods and those  with a greater percentage of students on subsidized lunch programs. Those schools are also given virtual and onsite training and consultation with national experts.
The researchers evaluated only California schools participating in the onsite program. The program now serves more than 28,000 schools nationally, the majority of which are high-need, through both the online and onsite versions of the program.
Schools in the onsite program are expected – but not required – to participate in nine training workshops over four years. Topics include support for increasing physical activity, improving the nutrition of school foods and developing formal health education curriculum.
Some key results of the study include:
For each additional contact with the program, overweight and obesity declined by 0.3 percent.
For each additional year of exposure to a national adviser, schools saw a nearly 2 percent decline in prevalence of student overweight and obesity.
For each additional year of training and technical assistance exposure, schools saw a trend toward a 0.5 percent decline in overweight and a 0.4 percent decline in obesity.
"These percentage points may seem small, but when you look at this from a population level, reducing obesity by these amounts is significant," said Madsen.
Madsen added that since the analysis revealed that active participation in the program yields more changes in student overweight and obesity, attention should be turned to reducing the barriers some schools may face in getting more involved.
"The extent to which the program can address schools' competing priorities, like time and financial constraints, could potentially improve the schools' success," said Madsen.
Other co-authors of the study include Carolyn Cotterman and Pat Crawford, of UC Berkeley, and JoAnn Stevelos and Abbie Archibald, of the Alliance for a Healthier Generation.
RELATED INFORMATION