International Education at Berkeley – The Role of Title VI Support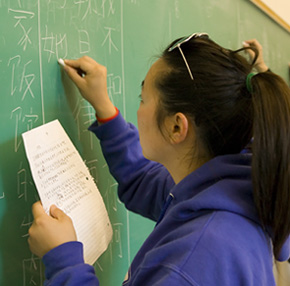 In 1959, at the height of the Cold War and following the launch of the Russian satellite Sputnik, the U.S. Congress funded Title VI of its National Defense Education Act to build an infrastructure for international education on university campuses across the nation. UC Berkeley has participated in Title VI since its inception and now receives nearly $3.5 million annually in support of its world area centers and language programs.
Title VI was founded in the spirit of internationalism that followed World War II, to encourage broad public knowledge of foreign languages and international affairs, and to ensure a steady supply of experts in languages, world areas, and international trends. As Cold War relationships have given way to new alignments and priorities, Title VI has changed and expanded in response. Funding from Title VI supports core activities across the Berkeley campus, including the operation of regional institutes and centers, language instruction, support for graduate students in a variety of disciplines, public outreach, and library acquisitions in targeted foreign languages. 
"Title VI has been indispensable not only for our area research centers but for thousands of students and young scholars," said George Breslauer, UC Berkeley's former Executive Vice Chancellor & Provost. "Without Title VI, we would not be able to offer some of the innovative programs that prepare Berkeley students to be globally aware citizens."
Three programs included in the original legislation continue today at Berkeley: the National Resource Centers (NRC) program, the Foreign Language and Area Studies Fellowship (FLAS) program, and the International Research and Studies (IRS) program. These programs are designed to strengthen the capability and performance of American education in foreign languages as well as to improve teaching and public awareness concerning other cultures and languages.
In response to emerging global trends, Berkeley has used Title VI funding to develop dynamic new offerings. Berkeley students have the opportunity to study a wide diversity of languages, from Afrikaans to Yucatec Maya. Title VI funding supports instruction in many of these languages, including Arabic, fifth-year Mandarin, and Pashto, a principal language of Afghanistan and northwest Pakistan.