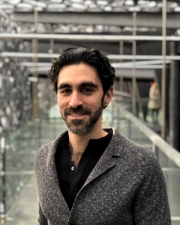 Ziad Obermeyer
Title
Associate Professor
Research Expertise and Interest
machine learning
,
and medicine
,
health policy
Research Description
Ziad Obermeyer is Associate Professor at UC Berkeley, where he does research at the intersection of machine learning, medicine, and health policy. He was named an Emerging Leader by the National Academy of Medicine, and has received numerous awards including the Early Independence Award -- the National Institutes of Health's most prestigious award for exceptional junior scientists -- and the Young Investigator Award from the Society for Academic Emergency Medicine. Previously, he was an Assistant Professor at Harvard Medical School. He continues to practice emergency medicine in underserved communities. 
In the News
January 11, 2022
The Chan Zuckerberg Biohub announced today (Jan. 11) the second cohort of scientists to be named CZ Biohub Investigators, 21 of whom are UC Berkeley faculty members.
April 21, 2020
In today's Berkeley Conversations: COVID-19 event, Jennifer Chayes, associate provost of the Division of Computing, Data Science, and Society and dean of the School of Information, spoke with three UC Berkeley experts about how relying on data and algorithms to guide pandemic response may actually serve to perpetuate these inequities — and what researchers and data scientists can do to reverse the patterns.
October 24, 2019
From predicting who will be a repeat offender to who's the best candidate for a job, computer algorithms are now making complex decisions in lieu of humans. But increasingly, many of these algorithms are being found to replicate the same racial, socioeconomic or gender-based biases they were built to overcome.