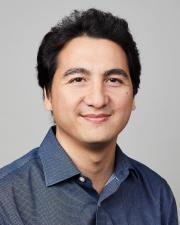 Zachary Pardos
Title
Associate Professor
Department
Berkeley School of Education
Research Expertise and Interest
knowledge representation
,
Adaptive Learning
,
artificial intelligence
,
Learning Analytics
,
Recommender Systems
,
higher education
,
data science
,
Digital Learning Environments
,
Cognitive Modeling
,
Big Data in Education
,
Knowledge Tracing
,
Formative Assessment
,
intelligent tutoring systems
,
Online Learning
,
psychometrics
,
Educational Data Mining
Research Description
Dr. Pardos is an Associate Professor of Education at UC Berkeley studying adaptive learning and AI. His current research focuses on knowledge representation and recommender systems approaches to increasing upward mobility in postsecondary education.
He earned his PhD in Computer Science at Worcester Polytechnic Institute with a dissertation on computational models of cognitive mastery. Funded by a National Science Foundation Fellowship (GK-12), he spent extensive time with K-12 educators and students working to integrate educational technology into the curriculum as a formative assessment tool. After completing his PhD in 2012, he spent one year as a Postdoctoral Associate at the Massachusetts Institute of Technology. At Cal, he directs the Computational Approaches to Human Learning research lab, teaches in the data science undergraduate program, and is an affiliated faculty in Cognitive Science.
Social media: 
https://twitter.com/zpardos
https://www.linkedin.com/in/zacharypardos/
In the News
May 27, 2020
Disaster is a laboratory for innovation. During a war, or in the aftermath of an earthquake, whole societies mobilize to answer the immediate challenge, while a cadre of researchers looks for a way to transform the crisis into advances that will improve lives, or save lives, in the future.
September 30, 2019
UC Berkeley Assistant Professor Zachary Pardos and his team have developed a machine learning approach that promises to help more community college students position themselves to transfer and succeed at four-year colleges and universities.