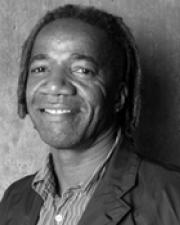 Walter Hood
Title
Professor of Landscape Architecture & Environmental Planning and Urban Design
Department
Dept of Landscape Architecture & Environmental Planning
Research Expertise and Interest
urban design
,
community development
,
landscape architecture
,
environmental planning
,
landscape design
,
citizen participation
,
design of architecture and landscape
Research Description
Professor Hood's research interests include the critical examination and development of specific urban landscape typologies for the American city. Together they reflect and reinforce specific cultural, environmental, and physical complexities of the city and neighborhood landscape. Through his teaching, writing, and practice Hood advocates the art of "Improvisation" as a design process for making urban landscapes and architecture.
In the News
September 25, 2019
It's not every day that Walter Hood gets to go by the name "genius." But today (Wednesday, Sept. 25) is that day: Hood, a UC Berkeley professor of landscape architecture and of environmental planning and urban design, was just named a 2019 fellow of the MacArthur Foundation, which is awarding him what's known colloquially as a "genius" grant.