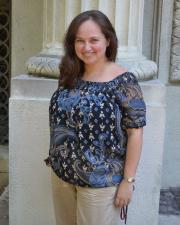 Valerie Shapiro
Title
Associate Professor
Research Expertise and Interest
social and emotional learning
,
social work
,
prevention
,
mental health
,
coalition
,
collaboration
,
research practice partnership
,
strength
,
school
,
assessment
,
screening
,
resilience
,
translation
,
dissemination
,
implementation
,
communities that care
,
children
,
DESSA
Research Description
Dr. Shapiro's research is in the prevention of mental, emotional, and behavioral problems in children and youth through the adoption, implementation, and sustainability of effective prevention practices. In order to promote the use of effective prevention practice, her scholarship focuses on how to (1) set the stage for communities to adopt and sustain a science-based approach to prevention, (2) implement programs successfully, and (3) assess youth outcomes in routine practice. She serves on the steering committee of the Coalition for the Promotion of Behavioral Health that produced the National Academy of Medicine Discussion Paper entitled "Unleashing the Power of Prevention." She is currently studying the implementation of Social Emotional Learning practices in school and out-of-school time (OST) settings.
See also: Google Scholar Profile.