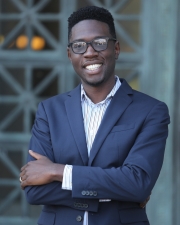 Travis J. Bristol
Title
Assistant Professor
Department
Graduate School of Education
Research Expertise and Interest
race and gender
,
urban schooling
,
organizational contexts of teachers' work
,
educational equity
,
African American students in schools
Research Description
Travis J. Bristol is an assistant professor at the University of California, Berkeley's Graduate School of Education. Before joining Berkeley's faculty, he was a Peter Paul Assistant Professor at Boston University. Dr. Bristol's research is situated at the intersection of teacher policy and practice. Using qualitative methods, he explores three interrelated foci: (1) national, state, and local policies that enable and constrain teacher workplace experiences and retention; (2) district and school-based educator professional learning communities; (3) the intersection of race and gender in schools. Dr. Bristol's research has appeared in peer-reviewed journals including Urban Education, the American Educational Research Journal, the Journal of Teacher Education, and Teachers College Record. He is currently co-editing (with Conra Gist) The Handbook of Research on Teachers of Color, which will be published by the American Educational Research Association (AERA).  The National Academy of Education/Spencer Foundation, Ford Foundation, and AERA awarded Dr. Bristol dissertation fellowships in 2013. In 2016, he received the inaugural teacher diversity research award from the American Association of Colleges for Teacher Education. In 2019, Dr. Bristol received a Ford Foundation Postdoctoral Fellowship and an emerging scholar award from the Comparative and International Education Society, African Diaspora SIG. In 2020, he received a National Academy of Education/Spencer Postdoctoral Fellowship. Dr. Bristol is on the Board of Directors of Teach Plus; the National Center for Teacher Residencies; and the East Bay School for Boys. He is a former student and teacher in New York City public schools and teacher educator with the Boston Teacher Residency program. Dr. Bristol received his A.B. from Amherst College; an M.A. from Stanford University; and a Ph.D. from Teachers College, Columbia University.
In the News
November 4, 2020
UC Berkeley scholars awoke Wednesday, Nov. 4 to signs of a deeply divided U.S. electorate, and no blue wave on the horizon. Despite a surge in early voting, ballots were still being counted in several battleground states. As of noon that day, the race between President Donald Trump and his Democratic challenger Joe Biden remained too close to call. 
February 19, 2020
According to the U.S. Department of Education, in 1994, two-thirds of public school students were white. More than 20 years later, fewer than half were. In contrast, today, male teachers of color make up less than 10% of the workforce, and black males represent 1.9% of all public school teachers in the country, but have one of the highest rates of turnover. Through his research with black male teachers of color in Boston public schools, Travis Bristol found that black male teachers were leaving at higher rates because of poor working conditions and a lack of resources from school administrators.