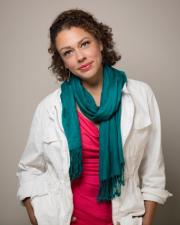 Tina Sacks
Title
Associate Professor
Research Expertise and Interest
racial disparities in health; social determinants of health; race
,
class and gender; and poverty and inequality.
Research Description
Tina Sacks is assistant professor at the School of Social Welfare. Her fields of interest include racial disparities in health; social determinants of health; race, class and gender; and poverty and inequality.
Prior to joining Berkeley Social Welfare, Dr. Sacks spent nearly a decade in federal service at the Centers for Disease Control and Prevention (CDC), where she honed her macro-practice skills in public health and social work. Her vast experience includes serving as special assistant to the director of the CDC, legislative director at the Baltimore City Health Department as well as executive director of the Illinois Association of Free and Charitable Clinics.
In the News
September 20, 2021
Long before sports superstars Naomi Osaka and Simone Biles braved the spotlight to defend their mental health, Graig Chow, a certified mental performance consultant at UC Berkeley, studied the culture that pushes elite athletes like NBA players Chamique Holdsclaw, Kevin Love and DeMar DeRozan to their breaking points.
June 29, 2020
As the country moves toward reopening — and with it some sense of "normalcy" — UC Berkeley researchers said simply returning to normal isn't enough. Rather, they said, dismantling structural racism must be part of any reopening strategy.
April 10, 2020
The recently-released data are shocking: COVID-19 is infecting and killing black people at an alarmingly high rate. An Associated Press analysis — one of the first attempts to examine the racial disparities of COVID-19 cases and deaths nationwide — has found that, of nearly 3,300 of the 13,000 deaths so far, about 42% of the deceased were African American. Black Americans account for about 21% of the total population in the areas covered by the AP analysis.