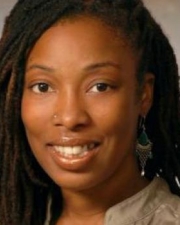 Tianna Paschel
Title
Associate Professor
Department
Dept of African American Studies
Dept of Sociology
Research Expertise and Interest
racial ideology
,
politics
,
globalization
,
Latin America
Research Description
Tianna Paschel is an associate professor in the Department of African American Studies and the Department of Sociology at the University of California – Berkeley. She is interested in the intersection of racial ideology, politics, and globalization in Latin America. Her work can be found in the American Journal of Sociology, the Du Bois Review, SOULS: A Critical Journal of Black Politics, Culture and Society, and Ethnic and Racial Studies and various edited volumes. She is also the author of Becoming Black Political Subjects, which draws on ethnographic and archival methods to explore the shift in the 1990s from ideas of unmarked universal citizenship to multicultural citizenship regimes and the recognition of specific rights for black populations by Latin American states. It is the winner of numerous awards including the Herbert Jacob Book Award of the Law and Society Association and the Barrington Moore Book Award of the American Sociological Association (ASA). Professor Paschel is also the co-editor – along with Petra Rivera-Rideau and Jennifer Jones – of Afro-Latin@s in Movement, an interdisciplinary volume that explores transnationalism and blackness in the Americas.
Professor Paschel is a Ford Fellow, member of the American Political Science Association Task Force on Race and Class Inequality, the Council of the Law Section of ASA, and the Steering Committee of the Network of Anti-Racist Action and Research (RAIAR).
In the News
January 14, 2021
The Department of African American Studies is excited to announce that it has been selected as one of sixteen recipients of the Andrew W. Mellon Foundation's Just Futures grant. This grant is a collaborative effort to address racial inequality through new humanities-based research & solutions.
May 13, 2020
A strong majority of Californians say that the COVID-19 pandemic is increasing inequality in the United States, and a majority believe that black residents are more severely affected, according to poll resultsreleased today by UC Berkeley's Institute of Governmental Studies (IGS).