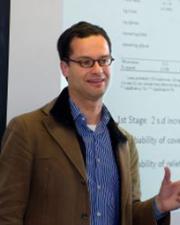 Stefano DellaVigna
Title
Daniel Koshland, Sr. Distinguished Professor of Economics and Professor of Business Administration
Research Expertise and Interest
behavioral economics
,
applied microeconomics
,
behavioral finance
,
media economics
Research Description
Stefano DellaVigna (2002 Ph.D., Harvard) specializes in Behavioral Economics and is the co-director of the Initiative in Behavioral Economics and Finance. He has been an Alfred P. Sloan Fellow (2008-10) and is a Distinguished Teaching Award winner (2008). He is a co-editor of the American Economic Review (AER) as well as of the first volume of the Handbook of Behavioral Economics. His recent work has focused on (i) the ability of experts (and non-experts) to forecast the results of research studies; (ii) the design of model-based field experiments, including analyzing the role of gift exchange, and (iii) the study of scientific journals.
In the News
April 29, 2014
French economist Thomas Piketty, gave a talk at UC Berkeley on inequality this week. Piketty's work traces rising global income and wealth inequality – often conducted with UC Berkeley economics professor and MacArthur Foundation Fellow Emmanuel Saez.