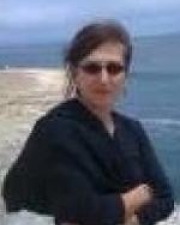 Stefania Pandolfo
Title
Professor of Anthropology
Research Expertise and Interest
cultural anthropology
,
Islam
,
Middle East
,
theories of subjectivity
,
postcolonial criticism
,
anthropology and literature
,
the Maghreb
,
mental illness
Research Description
The study of theories and forms of subjectivity, and their contemporary predicaments in the Middle Eastern and Muslim world represent the main focus of my current work. My writing, teaching and research cover the following themes: narrative, trauma, psychoanalysis and the unconscious, memory, historicity and the hermeneutics of disjuncture, language and poetics, experimental ethnographic writing, anthropology and literature, dreaming and the anthropological study of the imagination, intercultural approaches to different ontologies and systems of knowledge, modernity, colonialism and postcolonialism, madness and mental illness.
Previous Research A study of memory, trauma, and the speech of loss in a Southern Moroccan society, through spatial representation, autobiographical recollection, historical narrative, and oral poetry. (Based on in depth ethnographic study, including organization of space, agricultural practices, the body and techniques, the transmission of knowledge, idioms of gender and patriarchy) (See Impasse of the Angels. Scenes from a Moroccan Space of Memory,Chicago: The University of Chicago Press, 1997).
Current Research A study of emergent forms of subjectivity in Moroccan modernity at the interface of "traditional therapies" and psychiatry/psychoanalysis, exploring theoretical ways to think existence, possibility and creation in a context of referential and institutional instability and in the aftermath of trauma. Based on ethnographic research on spirit possession and the "cures of the jinn", and on the experience of madness in a psychiatric hospital setting. (Book in progress, Knots of the Soul; see articles, Rapt de la Voix, in Awal, 15, 1997; Le Noeud de l'Ame, in Rue Descartes.
Forthcoming The Thin Line of Modernity in some Moroccan Debates on Subjectivity. In Questions of Modernity, eds. T. Mitchell and L. Abu-Lughod. The University of Minnesota Press.