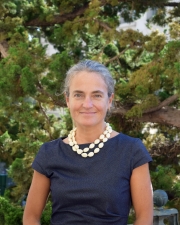 Sofia Villas-Boas
Title
Class of 1934 Robert Gordon Sproul Distinguished Professor in Agricultural Economics
Department
Dept of Agricultural & Resource Economics
Research Expertise and Interest
economics
,
industrial organization and applied econometrics
,
agricultural & resource economics
Research Description
Sofia Berto Villas-Boas is the Class of 1934 Robert Gordon Sproul Distinguished Professor in Agricultural Economics and Professor of Agricultural and Resource Economics at U C Berkeley. Born in Portugal in 1971 she received her Ph.D. in Economics from U. C. Berkeley in May 2002. Her research interests include industrial organization, consumer behavior, food policy, and environmental regulation. Her recent empirical work estimates the effects of policies on consumer behavior, such a bottled water tax, a plastic bag ban, and a soda tax campaign and its implementation. Other published work has focused on the economics behind wholesale price discrimination banning legislation, contractual relationships along a vertical supply chain, and identifying the role of those contracts in explaining pass-through of cost shocks along the supply chain into retail prices that consumers face. She has published in the top economics and field journals such as Review of Economic Studies, Rand Journal of Economics, American Journal of Agricultural Economics, Journal of Environmental Economics and Management, Marketing Science, Management Science, and Review of Economics and Statistics.