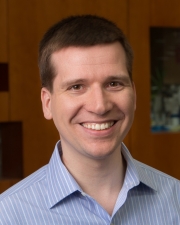 Simo Makiharju
Title
Assistant Professor
Department
Dept of Mechanical Engineering
Research Expertise and Interest
Experimental Fluid Dynamics
,
fluid dynamics
,
Cavitation
,
Multiphase flow
,
drag reduction
,
ocean renewable energy
,
particle image velocimetry
,
Time-Resolved X-Ray Densitometry
,
Droplet and particle transport
Research Description
Simo Mäkiharju is an assistant professor in the Department of Mechanical Engineering.  One of the central objectives of his research is to advance the physical understanding of high Reynolds number single- and multiphase flows primarily through experimental research, and through the development and use of advanced experimental techniques. Multiphase flows are encountered in almost every aspect of modern life, including offshore applications, biological flows, energy production, chemical processing, and naval hydrodynamics.   Specific topics Professor Mäkiharju has worked on include the reduction drag on marine vehicles, mitigation of damage and noise caused by cavitation in naval and industrial applications, and efficient handling of single- and multiphase flows in energy production applications.
To learn more about Professor Mäkiharju's research, please visit the FLOW Lab website.