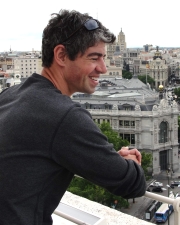 Seth Finnegan
Title
Associate Professor
Department
Dept of Integrative Biology
Research Expertise and Interest
paleobiology
,
paleoecology
,
paleoenvironments
,
mass extinctions
,
marine ecosystems
Research Description
Seth Finnegan is an associate professor in the Department of Integrative Biology.  He is broadly interested in the processes that have shaped the composition of the marine biota and the development of marine ecosystems from the origin of animals in the late Neoproterozoic to the present day.  Research in his lab integrates data from a variety of sources including field observations, lab work, and literature databases to ask and answer questions about the nature of organism-environment interactions through time. 
In the News
March 25, 2019
Barnacles that hitch rides on the backs of humpback and gray whales not only record details about the whales' yearly travels, they also retain this information after they become fossilized, helping scientists reconstruct the migrations of whale populations millions of years in the past, according to a new University of California, Berkeley, study.