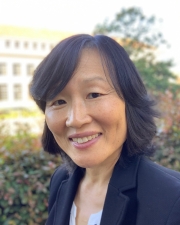 Sarah Song
Department
Berkeley Law
Dept of Political Science
Research Expertise and Interest
citizenship
,
gender
,
race
,
multiculturalism
,
immigration law and politics
,
democratic theory
,
political theory
Research Description
Sarah Song is Professor of Law and Political Science at UC Berkeley. She is a political theorist with a special interest in issues of democracy, justice, citizenship, and immigration. She teaches courses in political and legal philosophy, citizenship and immigration, and feminist jurisprudence in the Law School's PhD Program in Jurisprudence and Social Policy (JSP) and the undergraduate Legal Studies Program. She also teaches First Amendment Law in the JD Program.
In the News
May 12, 2022
With the nation already roiled by a draft ruling to restrict abortion rights, the U.S. Supreme Court appears poised to deliver additional conservative decisions in coming weeks on some of the most divisive issues facing the nation, UC Berkeley legal scholars said.