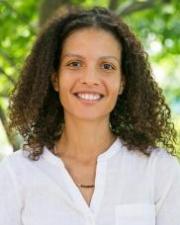 Sarah E. Vaughn
Title
Assistant Professor
Research Expertise and Interest
cultural anthropology
,
post-colonial science
,
environment
,
climate change
,
vulnerability
,
theories of liberalism
,
Caribbean
,
Latin America
Research Description
Sarah E. Vaughn's primary field is the critical study of climate change. She received her B.A. in 2006 from Cornell University, majoring as a College Scholar with a focus in Anthropology, Sociology, and Inequality Studies.  She was awarded a Ph.D. in 2013 from the Department of Anthropology, Columbia University. She has engaged climate change through both ethnographic and archival research of the geotechnical engineering sciences and the shifting commercial frameworks for climate data and services.  At stake in her research is the way climate change generates problem spaces and claims to expertise. 
She has two book projects that address these issues. The first project, Engineering Vulnerability: An Ethnography of Collaboration and Climate Change (under review) is a case study of flood infrastructures and people's efforts to collaborate in order to adapt to climate change in coastal Guyana.  Each chapter tracks transformations in Guyana's political forms of collaboration alongside those in the civil engineering sciences. Weaving together these comparative vignettes, the book exposes that climate change is indebted to a wider set of relations including: technology and nature, race and liberalism, as well as data and representation. In doing so, she argues that collaboration is a practice shaped by people's self-critical reappraisals of identity as much as the displacement of traditional knowledge networks.  
The second project explores the emerging markets for climate services across the Caribbean. Of particular concern are the ways climate data transforms into a medium for state diplomacy as well as the diversification of markets.  It highlights how commercial imperatives for climate services raise questions about the political frameworks that inform modeling practices such as down-scaling and the privatization of weather and climatological information.  
Selected Publications
In Progress.  "The Afterlives of Innovation: Sea Defense, Credibility, and Climate Adaptation."  
Forthcoming (2019).  "Vulnerability."  In Anthropocene Unseen: A Lexicon.  Edited by Cymene Howe and Anand Pandian.  New York: Punctum Books.      
2019.  "Inundated with Facts: Flooding and the Knowledge Economies of Climate Adaptation in Guyana."  In Unmasking the state: Politics, Society, and Economy in Guyana 1992-2005.  Edited by Arif Bulkan and D. Alissa Trotz, pp. 479-500.  Kingston: Ian Randle Publishers.
2019. [Reprint].  "Disappearing Mangroves: The Epistemic Politics of Climate Adaptation in Guyana." Deja Lu 32(2): 441-467.
2018.  "The Political Economy of Regions: Climate Change and Dams in Guyana." Radical History Review (131): 105-125.
2017.  "Imagining the Ordinary in Participatory Climate Adaptation." Weather, Climate, and Society 9(3): 533-543.
2017. "Disappearing Mangroves: The Epistemic Politics of Climate Adaptation in Guyana."  Cultural Anthropology 32(2): 441-467.
2012.  "Reconstructing the Citizen: Disaster, Citizenship, and Expertise in Racial Guyana."  Critique of Anthropology 32(4): 359-386.  
In the News
April 21, 2020
In today's Berkeley Conversations: COVID-19 event, Jennifer Chayes, associate provost of the Division of Computing, Data Science, and Society and dean of the School of Information, spoke with three UC Berkeley experts about how relying on data and algorithms to guide pandemic response may actually serve to perpetuate these inequities — and what researchers and data scientists can do to reverse the patterns.