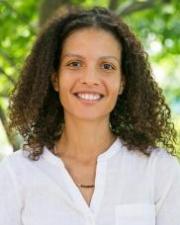 Sarah E. Vaughn
Title
Assistant Professor
Research Expertise and Interest
cultural anthropology
,
post-colonial science
,
environment
,
climate change
,
vulnerability
,
theories of liberalism
,
Caribbean
,
Latin America
Research Description
Research
Sarah E. Vaughn is a sociocultural anthropologist working at the intersection of environmental anthropology, critical social theory, and science and technology studies.   She received her B.A. in 2006 from Cornell University, majoring as a College Scholar with a focus in Anthropology, Sociology, and Inequality Studies.  She was awarded a Ph.D. in 2013 from the Department of Anthropology, Columbia University. Her research advances understandings of climate change in the Circum-Caribbean while tracking the affective, ethical, and political components of dignity and belonging.  At stake in her research are questions about the role climate change has in shaping the materiality of expertise, an ethics of (re)distribution, and narrative form.  She is affiliated with the Center for Science, Technology and Medicine, The Program in Critical Theory, and the Program in Development Engineering.
Profile
Vaughn's forthcoming book Engineering Vulnerability: In Pursuit of Climate Adaptation(link is external) (Duke University Press, April 2022) examines climate adaptation against the backdrop of ongoing processes of settler colonialism and the global climate change initiatives that seek to intervene on the lives of the world's most vulnerable. Her case study is Guyana in the aftermath of the 2005 catastrophic flooding that ravaged the country's Atlantic coastal plain. The country's ensuing engineering projects reveal the contingencies of climate adaptation and the capacity of flooding to shape Guyanese expectations about racial (in)equality. Analyzing the coproduction of race and vulnerability, she details why climate adaptation has implications for how we understand the past and the continued human settlement of a place. Such understandings become particularly apparent not only through experts' and ordinary citizens' disputes over resources, but in their attention to the ethical practice of technoscience over time. Approaching climate adaptation this way, she exposes the generative openings as well as gaps in racial thinking for theorizing climate action, environmental justice, and more broadly, future life on a warming earth. 
The second book project explores the relationship between the meteorological sciences and private-government partnerships in climate risk assessment in the Caribbean. It highlights how ventures, particularly in the (re)insurance industry for open access database development, have structured advances in climate adaptation projects while shaping the aesthetics of natural and built environments. 
Vaughn's research and writing have been supported by the Social Science Research Council, the Woodrow Wilson Foundation, the American Council of Learned Societies, the Institute for Advanced Study (Princeton), among others.
Frequently Taught Courses:
Undergraduate:
Black Atlantic Environments
Climate Change and the Senses
Graduate:
Anthropology of Carbon
Environmental Ethnographies
Technological Selves and Sociotechnical Systems
Representative Publications
Selected
Under Review.  "Unavoidable Slips: Historical Criticism and Accountability in the Anthropocene."
Under Review.  "The Limits to Computational Growth: Digital Databases and Climate Change in the Caribbean."
Forthcoming.  "On Watermarks and Fakes."  The Massachusetts Review: A Quarterly of Literature, the Arts, and Public Affairs.  Special Issue, "Climate Crisis," edited by Roy Scranton.
Forthcoming. "Erosion by Design: Rethinking Innovation, Sea Defense, and Credibility in Guyana." Comparative Studies in Society and History.
2021.  "Ecotourism's Ethics: Self-Organization and Care in Urban Guyana."  Environment and Planning E: Nature and Space [early access, https://journals.sagepub.com/doi/abs/10.1177/25148486211018566(link is external)(link is external)].
Vaughn, Sarah E. and Daniel Fischer. 2021. "Introduction: Witnessing Environments."  Special Section, "Witnessing Environments."  Hau: Journal of Ethnographic Theory. 11(2): 387-394.
2021.  "Gridlock: Vigilance and Early Warning in the Shadow of Climate Change."  Hau: Journal of Ethnographic Theory 11(2): 506-520.
Vaughn, Sarah E., Bridget Guarasci, and Amelia Moore. 2021.  "Intersectional Ecologies: Reimagining Anthropology and Environment."  Annual Review of Anthropology 50: 275-290.
2021. "The Aesthetics and Multiple Origin Stories of Climate Activism." Forum in Social Anthropology 29(1): 213-15.
Baker, Janelle, Paulla Ebron, Rosa Ficek, Karen Ho, Renya Ramirez, Zoe Todd, Anna Tsing, and Sarah E. Vaughn.  2020. "The Snarled Lines of Justice."  Orion: People and Nature (Winter): 14-21.
2020. "Caribbean Technological Thought and Climate Adaptation." Small Axe: A Caribbean Journal of Criticism 24(2(62)): 110-121.
2019.  "Vulnerability." In Anthropocene Unseen: A Lexicon.  Edited by Cymene Howe and Anand Pandian, pp. 517-521.  New York: Punctum Books.     
2019.  "Inundated with Facts: Flooding and the Knowledge Economies of Climate Adaptation in Guyana."  In Unmasking the State: Politics, Society, and Economy in Guyana 1992-2015.  Edited by Arif Bulkan and D. Alissa Trotz, pp. 479-500.  Kingston: Ian Randle Publishers.  
2019. [Reprint].  "Disappearing Mangroves: The Epistemic Politics of Climate Adaptation in Guyana." déjà lu 32(2): 441-467.
2018.  "The Political Economy of Regions: Climate Change and Dams in Guyana." Radical History Review 131: 105-125.
2017.  "Imagining the Ordinary in Participatory Climate Adaptation." Weather, Climate, and Society 9(3): 533-543.
2017. "Disappearing Mangroves: The Epistemic Politics of Climate Adaptation in Guyana."  Cultural Anthropology 32(2): 441-467.
2012.  "Reconstructing the Citizen: Disaster, Citizenship, and Expertise in Racial Guyana."  Critique of Anthropology 32(4): 359-386.
Books
Engineering Vulnerability: In Pursuit of Climate Adaptation (forthcoming, Duke University Press, 2022)  
In the News
April 21, 2020
In today's Berkeley Conversations: COVID-19 event, Jennifer Chayes, associate provost of the Division of Computing, Data Science, and Society and dean of the School of Information, spoke with three UC Berkeley experts about how relying on data and algorithms to guide pandemic response may actually serve to perpetuate these inequities — and what researchers and data scientists can do to reverse the patterns.