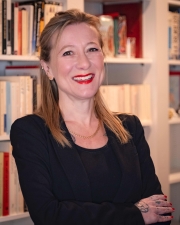 Sandrine Dudoit
Title
Professor and Chair
Research Expertise and Interest
statistics
,
applied statistics
,
data science
,
statistical computing
,
computational biology and genomics
Research Description
Development and application of statistical methods and software for the analysis of biomedical and genomic data.
In the News
March 23, 2022
A new research center at the University of California, Berkeley, funded by alumni Eric and Wendy Schmidt, will tackle major environmental challenges including climate change and biodiversity loss by combining data science and environmental science.
October 6, 2021
When you clicked to read this story, a band of cells across the top of your brain sent signals down your spine and out to your hand to tell the muscles in your index finger to press down with just the right amount of pressure to activate your mouse or track pad. A slew of new studies now shows that the area of the brain responsible for initiating this action — the primary motor cortex, which controls movement — has as many as 116 different types of cells that work together to make this happen.
September 30, 2014
The National Institutes of Health today announced its first research grants through President Barack Obama's BRAIN Initiative, including three awards to the University of California, Berkeley, totaling nearly $7.2 million over three years.