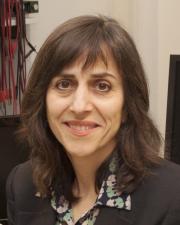 Roya Maboudian
Department
Dept of Chemical & Biomolecular Engineering
Research Expertise and Interest
surface and interfacial science and engineering
,
thin-film science and technology
,
micro-/nano-systems technology
,
harsh-environment sensors
,
silicon carbide
,
biologically-inspired materials synthesis
Research Description
Roy Maboudian is a professor in the Department of Chemical and Biomolecular Engineering.  Her lab's research program centers around physical and chemical issues related to the development of new applications of micro- and nanotechnology. Leveraging our interest and expertise in materials, interfacial phenomena, electrochemistry, and nanostructures & self-assembly, they aim for fundamental and practical advances in a variety of applications, ranging from micro-/nano-systems technology, to sensing, biomimetics, energy, and sustainability.
In the News
June 11, 2020
CO2 concentration in fresh air is about 400 parts per million (ppm). But get a group of people packed in a closed indoor space, and CO2 concentration can rise quickly.  Recent studies suggest that as levels increase above 1,000 ppm, decision-making and other cognitive abilities decline. Roya Maboudian studies the properties of nano-materials, including how their surfaces affect their performance. As a 2019-2020 Bakar Fellow, she is developing small, inexpensive and sensitive CO2 sensors.
September 5, 2019
Seven University of California, Berkeley, faculty scientists with novel ideas and an entrepreneurial spirit have been named to the 2019-20 cohort of Bakar Fellows, an honor that gives the fellows the money and time to translate their laboratory breakthroughs into technologies ready for the marketplace.