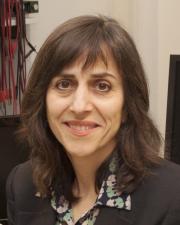 Roya Maboudian
Department
Dept of Chemical Engineering
Research Expertise and Interest
surface and interfacial science and engineering
,
thin-film science and technology
,
micro-/nano-systems technology
,
harsh-environment sensors
,
silicon carbide
,
biologically-inspired materials synthesis
Research Description
Our research program centers around physical and chemical issues related to the development of new applications of micro- and nanotechnology. Leveraging our interest and expertise in materials, interfacial phenomena, electrochemistry, and nanostructures & self-assembly, we aim for fundamental and practical advances in a variety of applications, ranging from Micro/Nanosystems, to sensing, to energy, to biomimetics.
In the News
September 5, 2019
Seven University of California, Berkeley, faculty scientists with novel ideas and an entrepreneurial spirit have been named to the 2019-20 cohort of Bakar Fellows, an honor that gives the fellows the money and time to translate their laboratory breakthroughs into technologies ready for the marketplace.