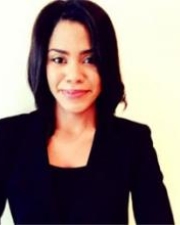 Rizvana Bradley
Title
Assistant Professor
Research Expertise and Interest
aesthetic theory
,
art history
,
black studies
,
contemporary art
,
contemporary film theory
,
critical theory
,
moving image installation
,
postcolonial studies
,
race and the philosophy of media
Research Description
Rizvana Bradley is a scholar of cinema and media studies, and contemporary art, with a specific interest in the development of the moving image, and art installation. Her forthcoming book manuscript is a recipient of a Creative Capital | Andy Warhol Foundation Arts Writers Grant, and offers a critical examination of the histories and forms of racialized embodiment that move through a range of experimental artistic practices, which integrate film and other media.  Bradley's scholarly approach to artistic practices and cultural production within the wider black diaspora expands and develops frameworks for thinking across different artistic mediums in global and transnational contexts. Her teaching and research take up film theory at the intersection of black studies, anticolonial politics, feminist and gender studies, continental philosophy, postcolonial theory, psychoanalysis, phenomenology, and aesthetic theory. Her writing addresses a number of interconnected mediums and thematics, including visual histories of racialized embodiment, theories of temporality and spatiality in contemporary art, film, and time-based media, as well as the politics and poetics of moving images. Bradley's scholarship has appeared in a wide range of academic publications, including Film Quarterly, Black Camera: An International Film Journal, Discourse: Journal for Theoretical Studies in Media and Culture, Rhizomes: Cultural Studies in Emerging Knowledge, Women and Performance: A Journal of Feminist Theory, and TDR: The Drama Review.