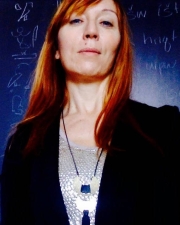 Rita Lucarelli
Title
Associate Professor of Egyptology
Department
Dept of Middle Eastern Languages & Cultures
Research Expertise and Interest
Research Description
Religion of ancient Egypt; funerary culture and literature of ancient Egypt; history and translation of the ancient Egyptian Book of the Dead; demonology and magic in ancient Egypt and the ancient world; ancient Egyptian religious and mortuary iconography; digital humanities; egyptomania.
In the News
March 8, 2021
If playing the video game Assassin's Creed Origins is as close as you're likely to get to a pharaoh's tomb — especially in this time of pandemic-thwarted travel — look no further than UC Berkeley for an expedition into an Egyptian burial chamber that won't expose you to a mummy's curse.
March 2, 2021
More than 100 years after their discovery, 19 mummified crocodiles are part of the Egyptian collection at the Phoebe A. Hearst Museum of Anthropology at UC Berkeley. These mummies, along with a collection of papyri held by the Center for the Tebtunis Papyri at the Bancroft Library, give us clues about how everyday ancient Egyptians lived and how far they went to appease crocodiles, hoping their devotion would win them some good will toward humankind.