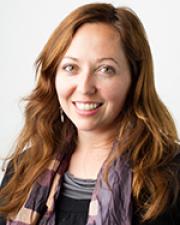 Rikky Muller
Title
Assistant Professor
Department
Division of Electrical Engineering/EECS
Research Expertise and Interest
integrated circuits
,
biosystems and computational biology
,
micro/nano electro mechanical systems
Research Description
Rikky Muller, PhD is an Assistant Professor of Electrical Engineering and Computer Sciences (EECS) at the University of California, Berkeley. She holds the S. Shankar Sastry Professorship in Emerging Technologies. She is Co-director of the Berkeley Wireless Research Center (BWRC), a Core Member of the Center for Neural Engineering and Prostheses (CNEP) and an Investigator at the Chan-Zuckerberg Biohub. Her research group focuses on emerging implantable medical devices and in developing low-power, wireless microelectronic and integrated systems for neurological applications. Prof. Muller was the co-founder of Cortera Neurotechnologies, Inc. a medical device company founded in 2013 and acquired in 2019.
Prof. Muller received her Bachelors and Masters degrees in Electrical Engineering from MIT, where she worked on cellular BioMEMS devices for pathogen detection. She received her Ph.D. from the University of California, Berkeley in Electrical Engineering where she performed research on minimally invasive neural interfaces. After her graduate studies, she was a McKenzie Fellow and Lecturer of Electrical Engineering at the University of Melbourne in Australia where she continued research in medical bionics together with the school of Medicine. Prior to her Ph.D. she worked as an integrated circuit designer at Analog Devices. Prof. Muller has been recognized with numerous academic and industry fellowships and awards. She was named one of MIT Technology Review's top 35 global innovators under the age of 35 (TR35), and one of MedTech Boston's top 40 healthcare innovators under 40. She serves as a Distinguished Lecturer of the IEEE Solid-State Circuits Society, and is the recipient of the National Academy of Engineering Gilbreth Lectureship, the Chan-Zuckerberg Biohub Investigatorship, the Keysight Early Career Professorship, the NSF CAREER Award, the Hellman Fellowship, the Bakar Fellowship, and the McKnight Technological Innovations in Neuroscience Award. 
In the News
June 24, 2021
Rikky Muller, Assistant Professor of Electrical Engineering and Computer Science, has refined the physical comfort of EEG earbuds and has demonstrated their ability to detect and record brain activity. With support from the Bakar Fellowship Program, she is building out several applications to establish Ear EEG as a new platform technology to support consumer and health monitoring apps. 
April 14, 2021
Engineers at the University of California, Berkeley, have created a tiny wireless implant that can provide real-time measurements of tissue oxygen levels deep underneath the skin. The device, which is smaller than the average ladybug and powered by ultrasound waves, could help doctors monitor the health of transplanted organs or tissue and provide an early warning of potential transplant failure.
December 31, 2018
A new neurostimulator developed by engineers at UC Berkeley can listen to and stimulate electric current in the brain at the same time, potentially delivering fine-tuned treatments to patients with diseases like epilepsy and Parkinson's. The device, named the WAND, works like a "pacemaker for the brain," monitoring the brain's electrical activity and delivering electrical stimulation if it detects something amiss.