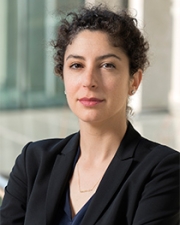 Rebecca Wexler
Title
Assistant Professor
Research Expertise and Interest
evidence law
,
criminal procedure
,
privacy
,
intellectual property protection
Research Description
Rebecca Wexler is an Assistant Professor of Law at the University of California, Berkeley, School of Law, where she teaches, researches, and writes on issues concerning data, technology, and criminal justice. Her work has focused on evidence law, criminal procedure, privacy, and intellectual property protections surrounding new data-driven criminal justice technologies. She is also a Faculty Co-Director of the Berkeley Center for Law & Technology.
Professor Wexler's research includes Life Liberty and Trade Secrets: Intellectual Property in the Criminal Justice System, The Stanford Law Review (2018); Technology's Continuum: Body Cameras, Data Collection, and Constitutional Searches, in Visual Imagery and Human Rights Practice (2018); Gags as Guidance: Expanding Notice of National Security Letter Investigations to Targets and the Public, The Berkeley Technology Law Journal (2016); The Private Life of DRM: How Fundamental Rights Frame Copyright Enforcement Reform, The Yale Journal of Law & Technology (2015); and Warrant Canaries and Disclosure by Design: The Real Threat to National Security Letter Gag Orders, The Yale Law Journal Forum (2014). Her work has appeared in The New York Times, Washington Monthly, and Slate, and been featured on NPR's The Takeaway.