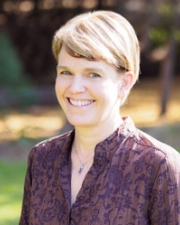 Rebecca W. Heald
Department
Dept of Molecular & Cell Biology
Research Expertise and Interest
cell division
,
Xenopus
,
mitotic spindle assembly and function
,
size control of intracellular structures
Research Description
Rebecca Health is a professor of Cell and Developmental Biology.  The scientific goal of the Heald Lab is to elucidate the molecular mechanisms of cell division and size control. Their unique and interdisciplinary approaches take advantage of in vitro systems, particularly cytoplasmic extracts prepared from eggs of the frog Xenopus laevis that reconstitute mitotic chromosome condensation and spindle assembly and function in vitro. To study mechanisms of spindle and organelle size control, they have utilized a smaller, related frog, Xenopus tropicalis, to investigate interspecies scaling, and extracts prepared from fertilized eggs at different stages of embryogenesis to study developmental scaling. Their research has provided novel insight into cell division and morphogenesis, processes essential for viability and development, and defective in human diseases such as cancer.
Current Projects
Current research is focused on two major areas. The first is to elucidate novel mitotic mechanisms that promote accurate chromosome segregation, characterize the key players that define spindle architecture, and advance reconstitution experiments toward a systems-level understanding of the spindle. The second is to investigate size control mechanisms at the subcellular, cellular and organism levels, developing tools for chromosome labeling and mutagenesis in Xenopus, and leveraging phylogenetic relationships among different frog species. Their research is highly collaborative and aims to provide new insight into the underlying principles of spindle assembly and biological size control, as well as the molecular basis of variation that contributes to genomic instability, aging, and evolution. Aside from research, her professional goal is to provide a productive and nurturing environment for my group members and to help guide them to the next phase of their careers.
In the News
May 1, 2019
In recognition of their outstanding achievements in original research, eight UC Berkeley faculty have been elected members of the National Academy of Sciences, one of the most distinguished scientific organizations in the country. The newly elected researchers include a neuroscientist, two physicists, two cellular biologists, a computer scientist, a chemist and an economist, and bring the total number of living UC Berkeley faculty who are members of the academy to 135.
January 12, 2018
With the occasional appearance of coydogs, pizzlies and ligers, it's clear that different species can often interbreed, even if the offspring are infertile.
October 14, 2010
The size of a cell's nucleus varies by species, by cell type, and with disease: many cancer cells develop larger nuclei as they become more malignant. Working with the African clawed frog, Professor Rebecca Heald and post-doc Daniel Levy have discovered two proteins that control the size of the nucleus.